Vienna Insight by Karin Sawetz, publisher Fashionoffice (11 September 2014)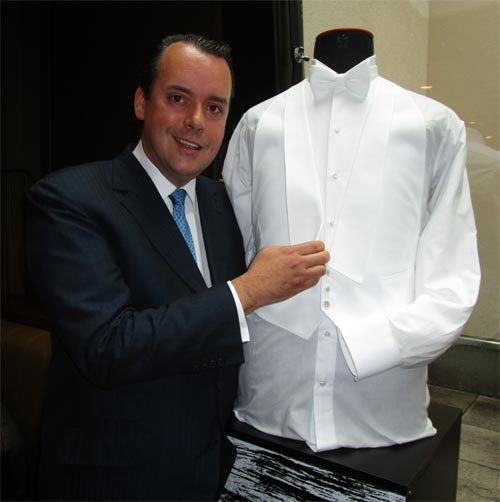 Manufacturer and designers' collaborative view on Vienna's culture
A men's shirt for sporty ball dancing, ergonomic design of table service, recycled jewellery and the re-interpretation of a 150 years old diamond star
Today, I visited the press event on occasion of the new 'Wien Products' 2014 collection at the Brasserie & Bakery of The Guesthouse in the center of Vienna. It's the 9th time that Vienna-based manufacturers collaborate with designers for a 'Wien Products' collection. With the products, they are sketching a sort of visual profile which is developed from Viennese culture activities such as ball dancing or the celebration of culinary art. The collection will be exhibited from 26 September until 5 October 2014 during Vienna Design Week at Palais Schwarzenberg.
The collection pieces could even be described as culture visiting cards of Vienna as they tell the city's history in art and crafts such as the diamond star which was once (mid-19th century) created by jeweler A.E. Köchert for Empress Elisabeth (new interpretation of the star at the image below) or the fig.: dress skirt which is on view above together with shirt maker Nicolas Venturini who leads the manufactory Gino Venturini (founded 1912). The idea for the practical shirt with integrated vest originates from sports manager and tennis coach Ronnie Leitgeb who entitled his creation 'Frackhemd 2.0' ('Dress shirt 2.0'). The design prevents that the vest shifts during ball room dancing. The image shows the tailor-made shirt of Ronnie Leitgeb.
In sum, 9 collaborations of manufacturers and designers were presented today. fig.: Another example of the 'Wien Products' 2014 collection is the 'Tableware by Palatin' by Gottfried Palatin for Vienna Porcelain Manufactory Augarten (since 1718). The tableware has ergonomic as well as interactive aspects. One of the ergonomic details is on view on the image right where I tested the design of the handle of the tea cup - and it's right, it molds perfectly between the fingers and makes it easier to hold the cup. The interactive aspect concerns the signature of the table service. The red signs are exemplarily applied to the table service and can be customized.

fig.: Daniela Skrein created for jeweler Skrein (owned by her uncle) the vintage collection of quasi recycled gold pieces which were collected in US (where she studied design) and reworked in Vienna. In her hand, Daniela Skrein holds a finger ring (closer view image left) which was originally a brooch.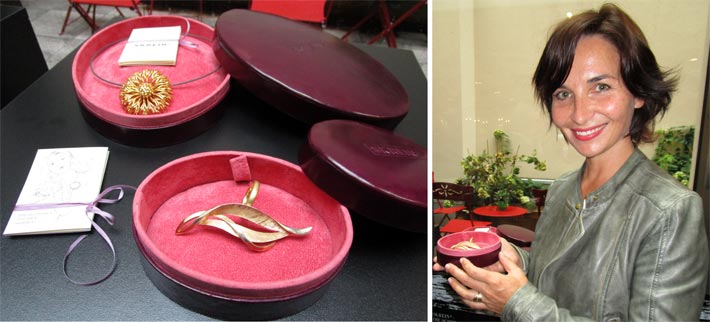 fig.: Designer Sebastian Menschhorn selected jeweler A.E. Köchert's stars and re-interpreted their signature form 150 years after the prominent 'star' of Austria's monarchy Empress Elisabeth ordered them in the 1860ies. Menschhorn's result for A.E. Köchert (founded 1814) is a star which has the appeal as if its diamonds could float in this formation through space. On the photo below right, the sparkling star is fixed on a bracelet ring.