New adidas Originals Superstar shoe campaign, 9 January 2015

Rita Ora, Damian Lillard, Pharrell Williams and David Beckham explore what makes superstars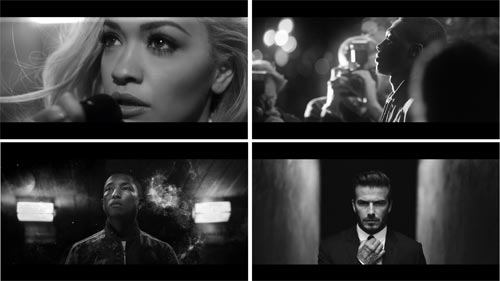 Adidas Originals' campaign film for the new edition of the 'Superstar' shoe (first released 1969) questions how a superstar is experienced by the public and the self-impression of superstars. Therefore, the brand collaborated with four superstars from music and sport. In the short film, Rita Ora, Pharrell Williams, David Beckham and Damian Lillard speak about their impressions of the involvement and expectations of fans into their lives.
The campaign video plays with a returning pair of storylines - the view of fans of the superstars' public life and the second plot concerns the (in the film uncommented) times of inspiration and determination to reach their goals which make them superstars. It starts with Rita Ora. First, she appears on stage in a huge stadium filled with thousands of people; the scenery switches abrupt into a dream-like, almost spiritual underwater stage with her as mermaid with light-flooded hair. The pair of plots is continued with one surprising appearance of a (well-known literature and movie character) security guard following David Beckham while he enters the arena. At the end of the video, Rita Ora and Pharrell Williams state (as quasi answer that the public view of superstars capture only the mediated image and not the aspects inspiration and determination) "If you think that's all make a superstar - then I'm not a superstar."
The global campaign for the adidas Originals Superstar shoe was created by New York-based creative agency Johannes Leonardo, with below-the-line communications strategy from London based Three Sixty Communications. Video directed by Karum Huu Do (uploaded on 9 Jan 2015, #OriginalSuperstar):




more culture>