2 December 2015

Christmas cocktail with fashion presentation at the carpet house Omar Besim in Vienna
Currently, one Christmas cocktail follows the next here in Vienna. Yesterday, Fashionoffice attended the presentation of fashion, accessories and carpet designers at the floor fashion house of Omar Besim who leads in the 3rd generation the famous Besim store. His grandfather founded in the 1940ies the Adil Besim carpet business with selections of floor textiles from the Orient. Omar Besim's store is part of the parent house Adil Besim, located at Dorotheergasse 5. The collection of carpets reach from antique pieces to modern floor textiles such as the ones by Cassida. Cassida designer Michael Quester developed the creations together with Omar Besim. One of these collaborative carpets from the 'Cassida for Omar Besim' collection became yesterday the stage set for the presentation of fashion and headwear by Alwa Petroni and accessories by Petra Hauser. The name of the Tibet wool and silk carpet is 'Saturnia Destroed' (on view behind the models on the wall). The textile creation looks like a secretly with ink handwritten message which just appears or disappears; as if the designer references the tradition of high-quality carpets and their - in special cases similar to art works - symbols, signs and culture specific ornaments which can only be deciphered by the ones who have the knowledge about the meaning.
The fashion presentation was directed by Guy Debast in cooperation with designers of the Runway Vienna store and with support of Stella Models.
fig. from left: Omar Besim, Alexis Fernandez Gonzalez (Runway Vienna), guest Miss Austria 2011 Carmen Stamboli and art director of the fashion/carpet installation Guy Debast on 1 December 2015 at the Christmas cocktail at the carpet house Omar Besim. Two models in fashion, headwear by Alwa Petroni and (model right) fringe necklace by Petra Hauser in front of the carpet 'Saturnia Destroed' from the 'Cassida for Omar Besim' collection.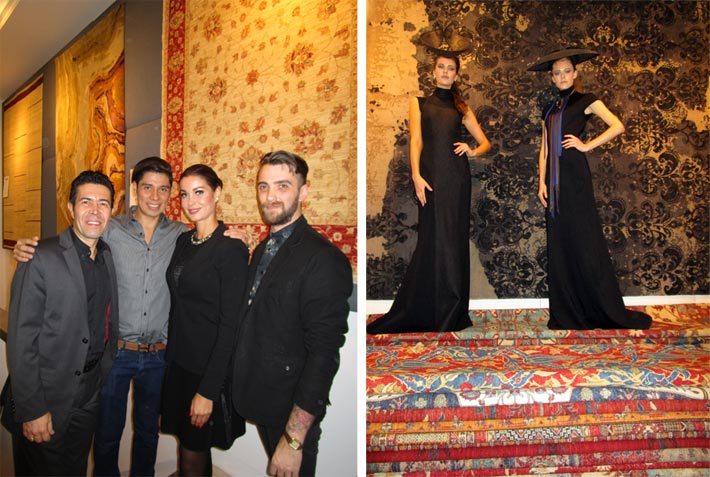 more culture>