29 September 2015

Austria's most popular ski athlete Anna Fenninger presented her helmet for the new season 15/16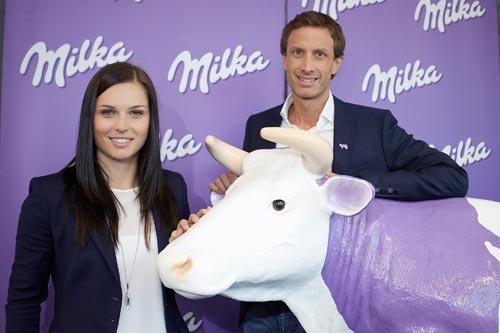 The new helmet on occasion of the cooperation between Olympic Gold medalist Anna Fenninger and chocolate brand Milka was unveiled at a press conference on 25 September in Vienna (picture of the helmet below).
Milka sponsors several ski athletes under the 'Milka Ski Stars' program such as Tina Maze or Elena Curtoni. Now, Anna Fenninger joined the ski stars who wear the label's lilac helmets during the races. Anna Fenninger's helmet shows a star made of cat skin pattern which is signature for her. She is often named in media 'wild cat' and is even shown with feline predators. Fenninger has already written history not only in sports but even in fighting against inequality caused by sports politics and the unequal funding of training conditions of women and men. Her rebellion happened with a huge media echo earlier this year before summer. Now, after Fenninger made the business of sports more transparent for the audience, the eyes of viewers will observe with bigger interest who is sponsoring whom when the new season starts with the FIS Alpine Ski World Cup Opening on 24 October in Sölden, Austria.
fig.: On the photo above, Anna Fenninger stands beside Dieter Heger, Manager Sportsponsoring Milka; in front, the brand animal of Milka, the lilac cow. Image below: The Milka Ski Stars helmet of Olympic Gold medalist Anna Fenninger who joined the chocolate label's team for the new ski season 2015/16. Photos from the press conference on 25 September 2015 in Vienna: (C) Grayling/APA-Fotoservice/Preiss; (C) Mondelez Österreich/Thomas Kettner.





more culture>