Preview of the Annual Program at MAK (Austrian Museum of Applied Arts / Contemporary Art), 21 January 2015
MAK director Thun-Hohenstein presented program for the exploration of applied arts from the angle of social behaviour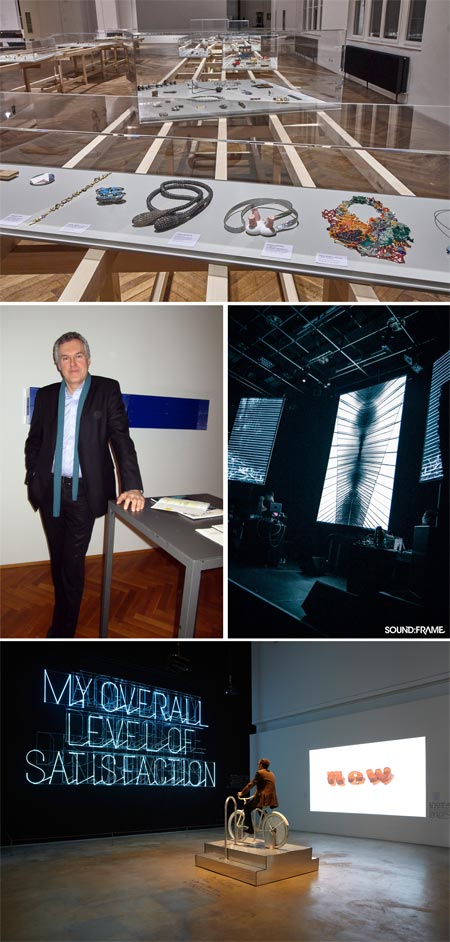 fig. from above:

Exhibition 'Jewellery 1970-2015, Bollmann Collection', 14 January until 29 March 2015 at MAK in Vienna. Photo: Exhibition view; (C) MAK/Georg Mayer.
Portrait Christoph Thun-Hohenstein, Director of MAK (Austrian Museum of Applied Arts / Contemporary Art) on 21 January 2015 at the press conference 'Creating Responsibility' in Vienna.
Festival 'Sound:Frame Live' from 9 to 17 April 2015 at MAK. Photo: Live AV performance by Sound:Frame, 2014. (C) sound:frame 2014, Dimitri Aschwanden.
Exhibition 'The Happy Show' by Stefan Sagmeister from 28 October 2015 - 28 March 2016 at MAK. Photo: 'The Happy Show' by Stefan Sagmeister (Creative Direction), 2012.
Art Direction & Design: Jessica Walsh. Design: Verena Michelitsch, Jordan Amer, Simon Egli, Martin Gnadt, Santiago Carrasquilla and Esther Li. (C) Sagmeister & Walsh.
Exhibitions and events concerning jewellery, sound, a graphic designer's view on happiness and ideas for smart life in metropolitan cities are four examples of the extensive MAK program 2015.
Today, director Christoph Thun-Hohenstein invited to the press conference concerning the exhibitions and activities of the MAK, the Austrian Museum of Applied Arts / Contemporary Art in Vienna.
Last year, MAK celebrated 150 years anniversary and opened on this occasion the new area 'MAK Labor' where design products are explored from the angle of the people's social living and embedded into the context of everyday life. This year, the Labor will be the host of the 'Vienna Biennale Circle'. Currently, there is no closer information about this circle; but fact is that the group will consist not only of designers, artists, the Vienna Biennale curators, architects but also of experts who join the interdisciplinary conversations about future society. The conversations accompany the first ever 'Vienna Biennale' (11 June - 4 October 2015) under the title 'Ideas for Change' and will center around living in metropolitan cities and will face challenges like climate change, mobility, new technologies, demographical changes and an urban population which defines itself over new characteristics. The 'Vienna Biennale' was the most important topic at the press conference which was entitled by Thun-Hohenstein - matching to the socially driven intention, 'Creating Responsibility'.
The MAK program 2015 is extensive and builds bridges between various fields of applied and contemporary arts. Currently runs the exhibition of jewellery items collected during the last 45 years from various countries and continents. Some of the items look rather like sculptures or wearable art objects than jewellery.

Alongside to design exhibitions such as the mentioned 'Jewellery 1970-2015', events like the audiovisual festival Sound:Frame will happen at the museum. Sound:Frame will present under this year's festival motto 'Live' audiovisual and interdisciplinary live performances in April at MAK.
Another pillar of the MAK program are solo-shows by designers, artists, architects such as 'The Happy Show' by graphic designer Stefan Sagmeister who invites visitors to step into his world of happiness by sharing (according to the MAK program) "...his experiences of happiness, which he achieved through meditation, sport, and stimulants."


more culture>