Art Route Venice
on occasion of La Biennale di Venezia, 56th International Art Exhibition
(Impressions from the press preview on 6 May)
8 May 2015

World politics and fashion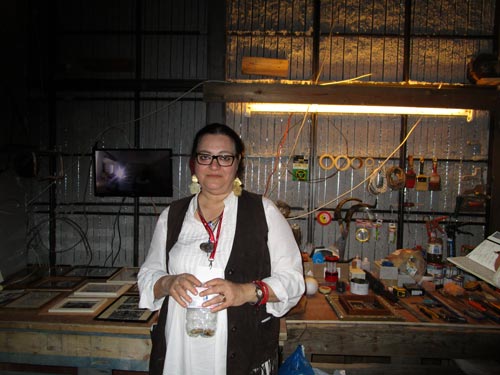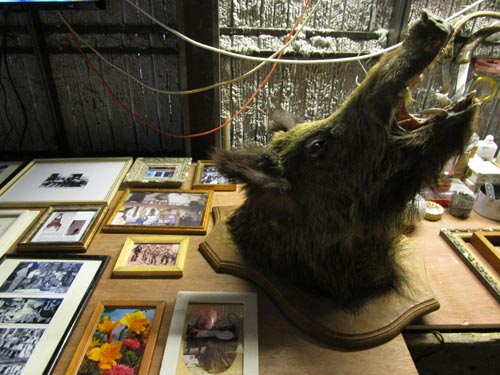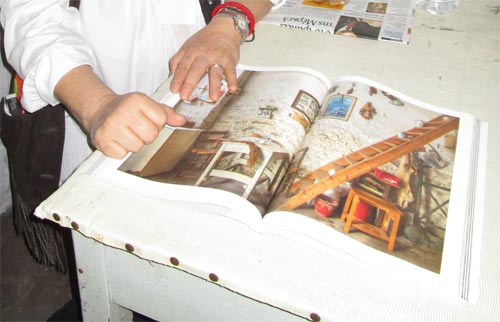 ...are two themes Maria Papadimitriou focuses with her most recent art works/projects on. But at first about her installation for La Biennale di Venezia and later to her fashion collection 'Gypsy Globales'.
fig.: Fashionoffice met artist Maria Papadimitriou while she was working at her workbench at the Greek Pavilion at the Giardini in Venice (map).
The title of the installation at the pavilion is 'Why Look at Animals?' and shows an identical Greek shop in original dimensions built into the country's building at the Giardini. Inside the installation, the artist arranged fur, leather, bicycles and even the small office of the shop. Maria Papadimitriou began to work first on the theme by framing old pictures (second image on this page); then she bought the head of a wild boar at a vintage market. This was the beginning of her visual story about power structures in today's societies.

Fashionoffice followed Maria Papadimitriou inside the installation where she sat down and began to browse through the La Biennale di Venezia catalogue and presented images of the origin of her art work: the image shows the shop from the central Greek city Volos which was re-built 1:1 here in Venice. It's amazing how detailed the installation mirrors reality.
The story 'Why Look at Animals?' has several threads; there is the hunter who grows with the animal prey, the animal hides and leather shop as objet trouvé in a 'ruined' pavilion; and it's about the dispossessed and non-domesticate-able animals. (Details)
After the tour, the Greek Biennale Venice artist told Fashionoffice to take a look at her own fashion collection, the 'Gypsy Globales' Capsule Collection 2014. Fashionoffice asked why she as an artist developed a fashion collection. Maria Papadimitriou said: "Because I don't like fashion."
The Gypsy Globales Capsule Collection is an exploration of the lifestyle of nomadic Roma who prefer non-conformity against common 'fashion'. Maria Papadimitriou researched the Gypsy culture from a semiotic perspective over visual signs (clothing, textile surfaces such as the meaning of fringes of traditional women's skirts) and the role of these signs within the group for elaborating the sociological-historical Roma culture portrait through the eyes of an artist.


more culture>