Art Route Venice
on occasion of La Biennale di Venezia, 56th International Art Exhibition; map
(Impressions from the press preview on 6 May)
15 May 2015

Applied arts research-exhibition explores the 'art of making' and the impact of digital technology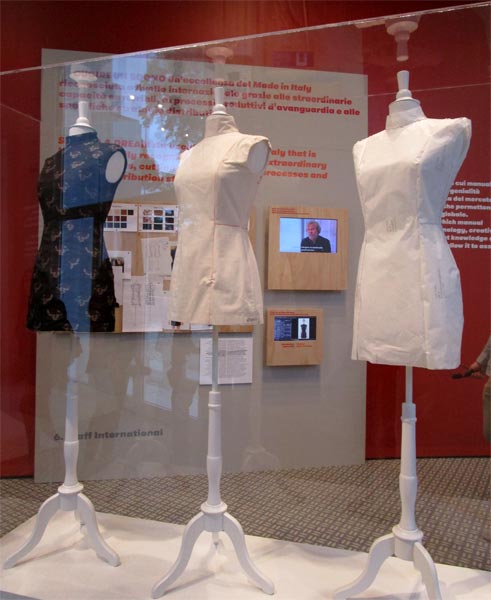 ...at the Venice Pavilion with nine stories about artistic creativity and technologies. The content of the stories is delivered by producers from the Veneto region.
'Digital' is one of the main topics which were explored by Venice Pavilion curator Aldo Cibic (founding member of Memphis and teacher at several institutions such as Domus Academy) for the exhibition about the process of making design products. The topic gives the exhibition its title 'Digital—not only digital' which references the relationship to the creative genius whose work is probably irrational and not calculable - such as a genius, high functional cut of a clothing item can be developed from breaking the rules of standardized pattern making.
Paolo Baratta, President of La Biennale di Venezia, points out that digital technology could bring standardization, banal forms but can also be a booster of development and creative diversification as it offers new features for the experimentation with new forms.
fig.: 'Sewing A Dream' installation by Staff International at the Venice Pavilion. In front, the showcase with three dress forms such as used by couturiers to develop the pattern of a clothing piece. The dress forms carry the making-of the 'Stockman Mini Dress' from the Défilé Collection Autumn-Winter 2015 by Maison Martin Margiela. Right, the paper construction of the pattern is on view; in the middle, the pattern is tested in a plain weave fabric; and left, the dress is realized in varnish and embroidered tulle.
Behind the glass cabinet, fashion sketches, pattern designs, fabric and textile design collections, manufacturing plans with image of a virtual model and photos of the workmanship and the work-process at the design computer are pinned to a wall. The wall looks like moved from a creative office to the Venice Pavilion. Right beneath the fashion making-of, Renzo Rosso, President of OTB Group (Maison Martin Margiela, Marni, Diesel, Staff International...) is speaking via video about the production of fashion collections for various labels. Below, a screen that shows the virtual model development with various options to experiment with the dress.


more culture>