Art Route Venice
on occasion of La Biennale di Venezia, 56th International Art Exhibition; map
(Impressions from the press preview on 6 May)
18 May 2015

When asking people becomes a political act
La Biennale di Venezia curator Okwui Enwezor is on the cover of the current May/June 2015 issue of L'Uomo Vogue. Inside the magazine, photos by Mark Seliger show the international curator styled by the Vogue team in fashion by brands like Salvatore Ferragamo and Giorgio Armani. But the eye catching photo editorial isn't everything L'Uomo Vogue publishes in this issue; Vogue asked the curator who is known for his political-poetry approach to art, about his ideas behind this year's Biennale Venice.
In the interview with L'Uomo Vogue, curator Okwui Enwezor introduces especially into the Central Pavilion where this year the 'Arena' is staged with several live acts like live readings of Karl Marx' 'Das Kapital' or the digital interactive - quasi live - installation 'World Poll' by the German-American artist Hans Haacke. "In the exhibition we present a selection of his polls, as a way to think about democracy and the power of change," says Okwui Enwezor in the interview with L'Uomo Vogue.
The 'World Poll' (parts on view at the image below) isn't the first by Hans Haacke. He started with his work on art-installations for asking people for their opinion already in the late 1960ies on occasion of Vietnam war and as an reaction to the establishment which influenced (with money, political influence) not only the status quo of inequality (race, gender, income) but also the content of what was exhibited at museums. Tate describes Hans Haacke as an artist who "touches taboos in the social system" and whose aim is "the nerve-centre of the establishment". Tate Papers publishes the personal memories of Hans Haacke for the first exhibited poll in 1970 at MoMA via PDF.
Hans Haacke's iPad installation at the Arena is from 2015. Questions about demographic data such as language, profession or income are mixed with topical questions like the effect of sponsorships on exhibitions. Around the table with the four iPads, results of polls of former exhibitions are applied to the walls; Contemporary Art Daily provides more views of Hans Haacke's installation at the Arena.

fig.: Visitors of La Biennale di Venezia are sitting around a table for filling out the 'World Poll' (2015) by Hans Haacke during the press preview day on 6 May. This part of the installation consists of four iPads which are connected via Mac Mini airport base station. When the questionnaire is finished, the visitor sees the results of the poll. (The table-iPads installation is courtesy by the artist and Paula Cooper Gallery, New York; with support of Institut für Auslandsbeziehungen - ifa.) German-American artist Hans Haacke was born in 1936 in Germany, lives and works in New York, and focuses with his work on free speech.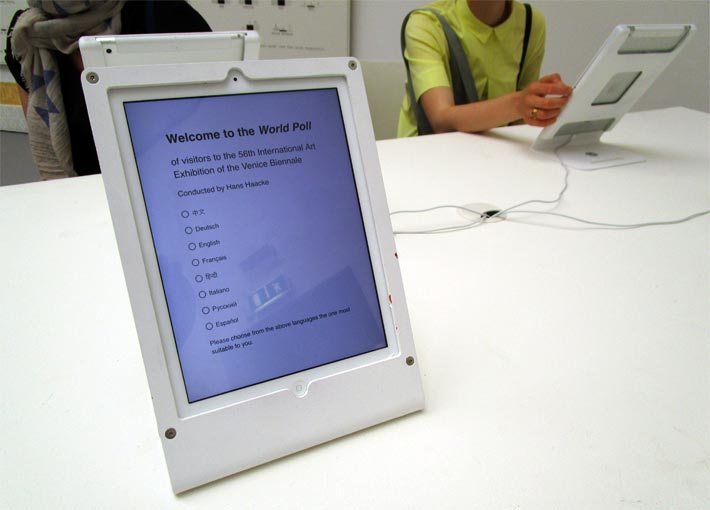 more culture>