24 August 2015

First impressions and results from the new
FW2015/16 FIS Snowboard World Cup season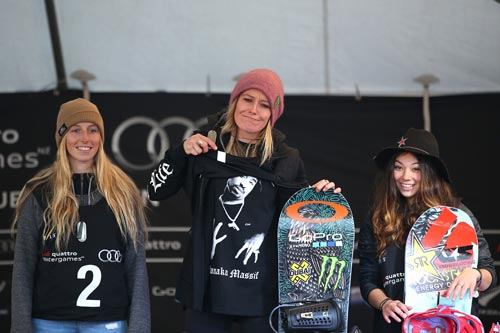 Audi quattro, the name sponsor of the 'Audi quattro Winter Games New Zealand', sent the first impressions and results from the season opening of the FIS (International Ski Federation) Snowboard World Cup FW2015/16 which is currently on-going (21 - 30 August 2015).
fig.: Winners in the category 'Women's FIS Snowboard World Cup Slopestyle - Finals' are Jamie Anderson of the United States (1st place - on the photo in the middle), Laurie Blouin from Canada (2nd place, left on the image) and Hailey Langland of the United States (3rd place). The competition was held at the Cardrona Alpine Resort. Photo from 22 August, Wanaka, New Zealand. Photo by Hannah Peters/Getty Images; (C) 2015 Getty Images.
After the slopestyle, the halfpipe competitions are scheduled for 28th and 30th August (article with schedule). The FIS competitions can be followed via several social media channels like YouTube, Facebook (Snowboard World Cup post on this page) or via the FIS website where the 'Social Media Hub'-page for all disciplines makes it easy to enter the channels.

The snowboarders' next dates will take place in Chile, Australia, Argentina... The competitons will be held several times in Austria: from 27 to 29 November at Pitzal, 11 to 13 December 2015 Montafon...


more culture>