30 October 2015

Insights into the first day of blickfang Vienna 2015
Today, the traveling design shopping event blickfang opened the doors for the public. Until 1 November, around 130 labels present their current furniture, home accessories, jewellery and fashion collections at the MAK Museum (entry Weiskirchnerstrasse) in Vienna. Fashionoffice followed the invitation to the press-walk through the exhibition on two floors together with this year's blickfang curator Bavarian furniture producer Nils Holger Moormann and blickfang CEO Jennifer Reaves who directs since 16 years the most important and largest touring design shopping event in German language countries. It's the 12th time that blickfang organizes the event in Vienna - and since twelve years at the same place, the MAK, the Austrian Museum of Applied Arts.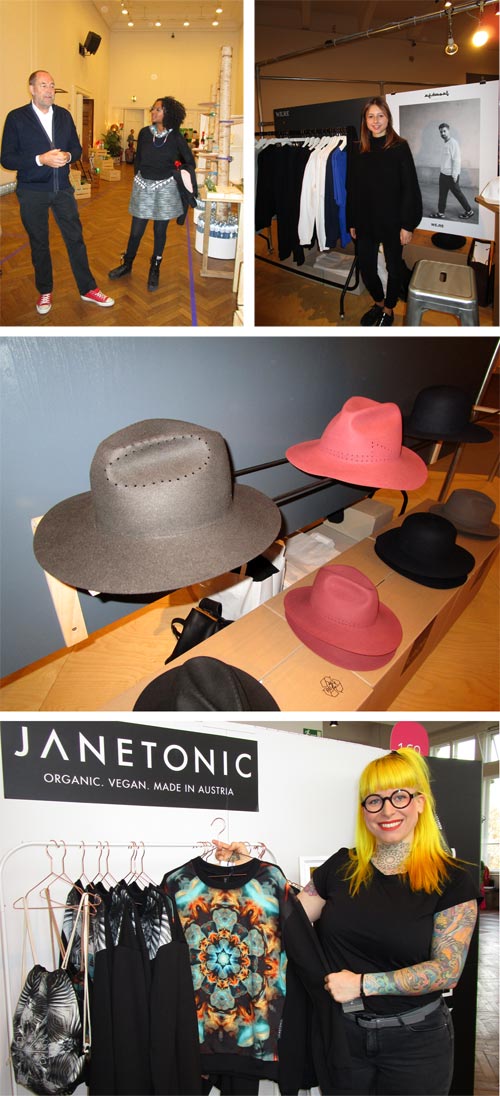 fig. first row, left: Blickfang 2015 curator Nils Holger Moormann and blickfang CEO Jennifer Reaves at the reditum furniture booth. Reditum is one of the labels of the 'Vöslauer Urban Gardening' show which focuses on recycling.
At the first floor, we met the nominees for the MINI Design Award which runs this year under the motto 'Gentleman's Essentials'. Two prizes will be given: one for furniture/product design and one for fashion. The award ceremony will happen today at 19:00.
fig. first row, right: Munich-based women's and men's wear label WE.RE by the duo Theresa Reiter and Katharina Weber (on the photo) presented comfortable men's wear in minimalistic, androgynous design for the 'Gentleman's Essential' MINI Award.
fig. middle: The fur-felt hats 'Lada by Tonak' are the creations by Czech fashion designer Lada Tomeckova and manufactured by hat producer Tonak for the MINI Award. Lada Tomeckova is active for her own label and other brands like Otavan or Odex.
It takes around three hours to visit all booths of blickfang 2015; one of the fashion collections which impressed the most at the second floor of the shopping event was the one by Salzburg-based 'Janetonic' founder Eva Schatz who applied her own handpainted/computer illustrations onto sweaters, gym-bags and dresses.
fig. image right: Janetonic label owner Eva Schatz shows the psychedelic kaleidoscope illustration 'Lava' on one of the sweaters of the 'Deep Sea' Fall/Winter 2015/16 collection. The Janetonic 'Deep Sea' prints reference the beauty of the ocean with the blue of the water, the green of the underwater plants, and the colors of fishes, seashells, corals and the sun.


more culture>