8 August 2015

Austria's top ranking football club SK Rapid Wien outfitted by Camp David
Currently, SK Rapid Wien is the top ranking Austrian football club. SK Rapid was founded in 1899 and is today the country's record title holder with 32 league titles. The club's upcoming UEFA Champions League play-off SK Rapid - Shakhtar Donetsk will happen on 19 August at Ernst-Happel-Stadion in Vienna.
Since this summer, the players, trainers, coaches of SK Rapid Wien appear in men's wear by German label Camp David. The photo on this page shows the complete team in Camp David's special sports blazer with club logo, elegant white shirt, tie in Rapid's signature green, classical denim jeans, brown leather shoes and matching belt. The image was shot on occasion of the continuation of the Rapid/Camp David contract which started already in January 2015; this summer marks the beginning of SK Rapid Wien and Camp David's first full season. The contract will run until 30 June 2017.
fig.: Football club SK Rapid Wien (players, trainers, coaches) in fashion by Camp David (blazer, shirt, tie, jeans, belt, shoes); July 2015. Photo provided by Camp David; (C) FOTObyHOFER/Christian Hofer.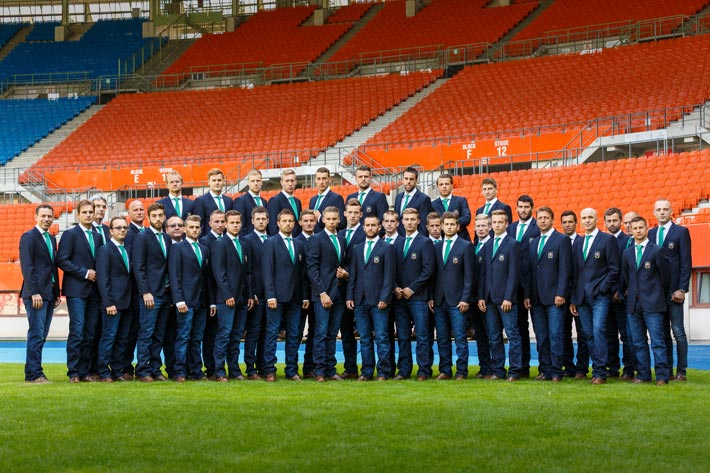 more culture>