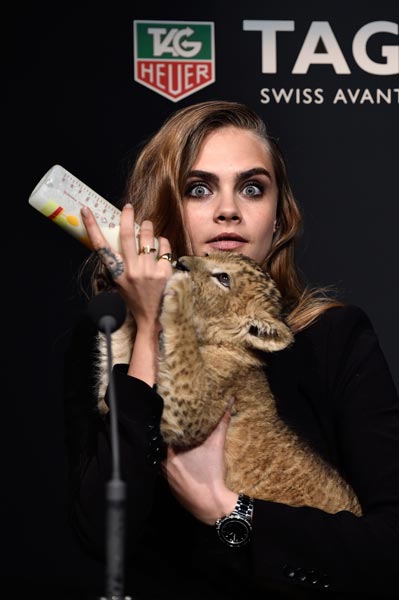 Cara Delevingne for Tag Heuer, 24 January 2015

Cara Delevingne selected by Tag Heuer for having re-defined the role of classical 'It-Girls'
To be only a classical It-Girl is probably not enough for young women nowadays; too many things are missed in this role such as being not only 'it' but a personality who delivers an imagination of lifestyle which is self-determined. Cara Delevingne is the representation of the new 'It-Girl' who is multifaceted and talented; she is model with acting abilities, appears in context of the entertainment industry such as the music video 'Ugly Boy' by Die Antwoord and she is social media star. For sure, it's not only her talent of slipping into various roles and fashion styles (from streetwear to high luxury) which makes her successful; it's the combination of her talent and her ability to choose the right partners like Chanel (fashion), Yves Saint Laurent (beauty) or now Swiss watch label Tag Heuer which set her onto the stage of top-chic. Tag Heuer did it recently with a baby lion on occasion of the announcement of the collaboration in Paris.
Tag Heuer comments the choice of Cara Delevingne as new female ambassador: "She is a true path-breaker, who, like TAG Heuer, pushes past conventions and limits with creativity and passion, and never cracks under pressure."
fig.: The image shows Tag Heuer Brand Ambassador Cara Delevingne with a baby lion on stage at the launch of the watchmaker's new 2015 campaign at Palais des Beaux-Arts on 23 January 2015 in Paris, France. Cara Delevingne was born 1992 in London under the sign of the lion which is also tattooed on her index finger. On her wrist, she wears the TAG Heuer Formula One Steel and Black Ceramic Chronograph with glittering diamonds. Photo by Pascal Le Segretain/Getty Images for TAG Heuer; (C) 2015 Getty Images.


more culture>