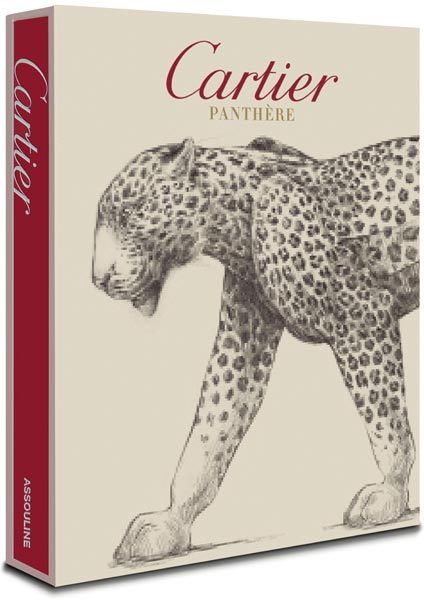 18 August 2015

Cartier's history of prey animal jewellery
Cartier sent a digital press-preview of the new 100-years anniversary print publication 'Panthère' which is about the jeweler's creations of pieces representing the prey animal. Fashionoffice browsed through the pages.
fig.: Cover of the new book 'Cartier Panthère' (28 x 35 cm, 300 pages, 150 illustrations, linen hardcover in a luxury slipcase); published via Assouline, 2015.

The richly illustrated book shows the panther through the history of art and the realization as jewellery from naturalistic to almost abstract depictions, from iconic representations such as in the form of the 'Golden Fleece' to responses to contemporary culture such as the 'Mosaic Panthère' which premiered at the 2014 Biennale des Antiquaires in Paris. Last mentioned 2014 panther's pattern of a mosaic is inspired by digital age's computer screen pixels and arranged by the designers in a way to set the stone pieces of the prey animal sculpture visually into movement.
The book provides also insights into the symbolism of the panther through times - from religious motifs of Old Egypt to presentations in classical and modern art, it reports about the influence of the changing roles of women on the jewellery business, lists examples for showing the impact of the entertainment business and fashion journalism on jewellery trends, and reviews the work of Cartier's creative directors such as Jeanne Toussaint who incorporated the zeitgeist of her time into the house's collections: "Most of all, Jeanne Toussaint understood how to translate femininity, in all its facets, contrasts, and contradictions into timelessly modern jewels. She ensured that jewels were no longer the currency of love or of male ownership, but badges of independence, individuality, and a new way of interacting with the world." cited from the text contributed by jewelry historian Vivienne Becker to the print publication 'Cartier Panthère'.
Vivienne Becker is one of four editors of the anniversary publication. The authors were selected by Cartier because of their special knowledge in the respective fields art history, art critic, jewelry history, goldsmithery/jewelry auctioneering, and fashion journalism. The book with closer information about the editors is already available via Assouline and it's announced that it will be distributed via selected book stores from September.


more culture>