16 June 2015

New interpretation of the one-leg coffee/restaurant table by Vienna-based chmara.rosinke at Designaustria exhibition in Zagreb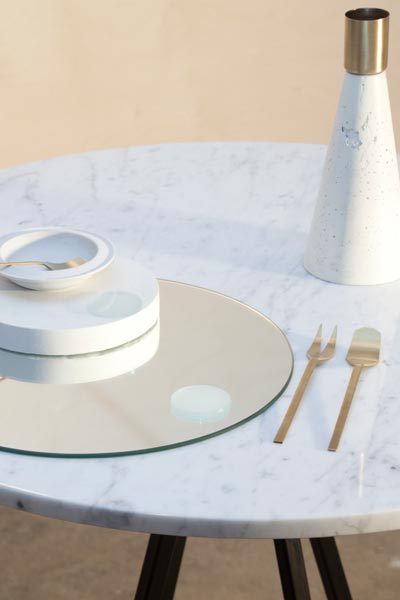 Designaustria belongs to Europe's longest active design organizations. The curation of exhibitions counts to the agenda of the organization. The latest is the show 'Angewandt & Alltäglich' (transl. 'Applied & Everyday') curated by Bettina Steindl from 12 June until 2 August 2015 at Galerija Klovićevi Dvori on occasion of the 60th anniversary of the Austrian Cultural Forum in Zagreb, Croatia. It's announced that Designaustria plans to present Croatian designers next year in 2016 in Vienna.
Fashionoffice looked through the catalogue of the exhibition. Designaustria focused on furniture, tableware and lightning objects which combine craftsmanship and quality as well as tradition and the outlook into the future. One of the collected pieces is the interpretation of the traditional one-leg coffee/restaurant table by Vienna-based duo chmara.rosinke. The award winners (DMY Berlin Award 2012, etc) Ania Rosinke and Maciej Chmara approach design from various aspects; alongside to functionality, sustainability, the observation of people's emotions that are evoked by objects and spaces is one of the inspiring sources for their works.
fig.: 'Fine Dining Table' by chmara.rosinke, 2014. Photo: (C) chmara.rosinke. The table was presented recently in April at Salone del Mobile in Milan (link). On view at the photo is also the design duo's vase.


more culture>