13 December 2015

New Comma Spring campaign by Ellen von Unwerth is a picture story about romantic love and sexy boho lifestyle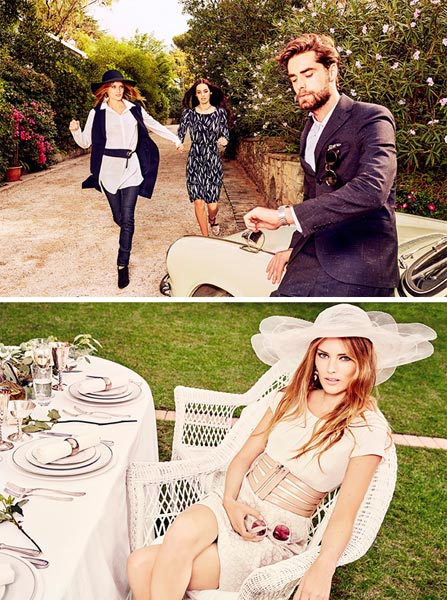 Ellen von Unwerth belongs currently to the most important photographers; her recently published pictures of Pamela Anderson for the final nude issue of Playboy have already written media history. Photography is one field; film is the other. On her Vimeo page, Ellen von Unwerth posts examples of her video projects like silent film-like erotic movies or campaign spots such as one with Lady Gaga for Shiseido.
For the new Comma campaign Spring 2016, the photographer selected as location a luxurious mansion at the Côte d'Azur, the Villa Roccabella in St. Tropez. The campaign consists of two narratives.
fig. right: For the main line 'comma', Ellen von Unwerth sets elegant day wear and cocktail pieces into the scenery of a wedding party with German model Charlott Cordes in the leading role.
fig. below: The second narration can be entitled 'Boho Party' and depicts fashion pieces with focus on pattern mixes and jeans of the line 'comma casual identity' in 60s/70s inspired scenes of relaxed afternoons and evenings at a mansion and garden at the sea; in front of Ellen von Unwerth's camera, German upcoming model Charlene Högger.
It's Ellen von Unwerth's second campaign for the German label Comma (belongs to Rottendorf textiles company s.Oliver). The campaign photos 2015 for comma casual identity and comma are published at the brand's magazine on comma-fashion.com where the full range of the new Spring 2016 images will be unveiled soon. It's announced, the campaign will be shown from January 2016 at POS, print and online.






more culture>