28 August 2015

Preview of the new festival guide of Vienna Design Week (25 September - 4 October)
Fashionoffice previewed the 'Vienna Design Week' festival guide which will be published online from 1 September. The digital booklet provides a well-structured insight into the extensive program consisting of exhibitions, workshops, talks, cocktails, guided tours and events which can be explored even on bicycle and at the special 'Vienna Design Cook' event series, the transport is supported by a car shuttle. The field 'design' is covered farsighted by topics like urban mobility, over social design, furniture to fashion.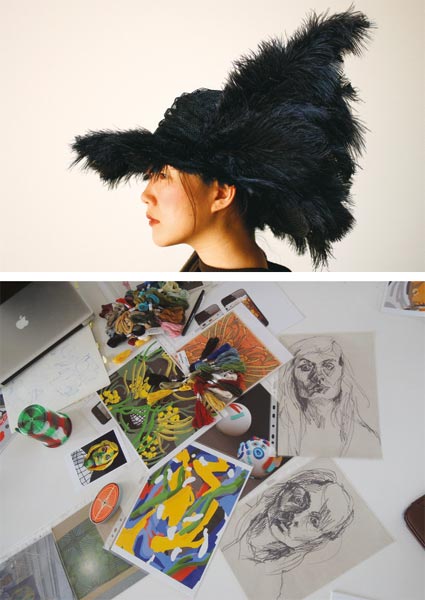 Only to mention three exemplary events (in analogy to the images from above):
The exhibition 'A Wardrobe for Resistance' by Vienna-based artist and researcher Ebru Kurba is about mobile technology's electro-magnetic spheres which surround people in an urban environment. Exhibition from 25 September until 11 October at stilwerk Wien, Praterstraße 1.
The second example (2nd image right), are the designs by Paris-based Laureline Galliot in collaboration with the Austrian textile manufactory Backhausen which is known for its exclusive collection of early 20th century Jugendstil, Wiener Werkstätte designs (Josef Hoffmann, Koloman Moser, Otto Wagner) and cooperations with contemporary artists and architects. At the exhibition at the Wagner:Werk Museum, Postsparkasse, Georg-Coch-Platz 2, Laureline Galliot's colorful visual dialogue with the heritage of Backhausen will be on view from 25 September until 2 October.
The third example (photo below), concerns the presentation of classical manufacturing techniques by shoe label NUE Wien. The presentation carries the title 'Warum eine Frau und ein Mann gute Schuhe tragen sollten' and could be translated and summarized as question about the advantages of good shoes. Slow fashion label 'NUE Wien' produces leather sneakers after traditional methods - so that they can be repaired like traditional shoes. On the opening day of Vienna Design Week on 25 September, NUE invites to a talk in salon atmosphere at the new NUE studio at Große Sperlgasse 19. During Vienna Design Week (until 4 October), NUE will introduce into shoe making at two workshops.
Photos (from above):
Window Gallery - Taiknam Hat; (C) Kurbak & O'Nascimento 2008.
Passionswege Backhausen + Laureline Galliot; (C) Backhausen.
Thomas Licht - Warum eine Frau und ein Mann gute Schuhe tragen sollten; (C) Thomas Licht 2015.




more culture>