14 March 2015

Fashion becomes puzzling at Isa Genzken's 'Actors' sculptures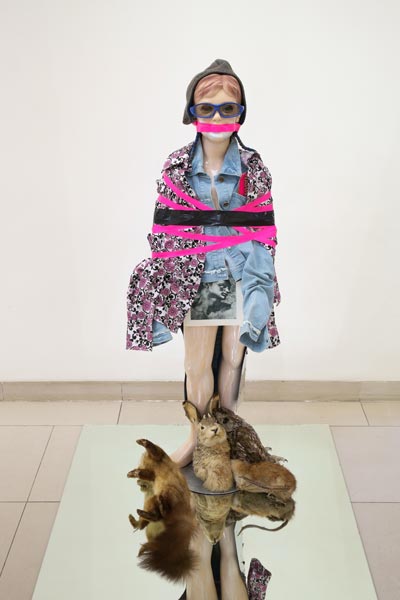 Since today, 'Isa Genzken: New Works' are on show at MMK Museum für Moderne Kunst in Frankfurt (until 31 May).
The exhibition can't be summarized easily as the German artist hasn't only one distinctive message. It's more that Isa Genzken lures visitors with her collages and sculptures into film-dramaturgy-like stagings where the artist mediates her experience of our society and topics like consumerism (keywords: fashion on window dolls) or themes like gender and freedom - such as the image (right) of one of the 'Actor' sculptures can make assume.
The collages of sketches or photos like the one of Adam (from Michelangelo's 'Creation of Adam' at the Sistine Chapel - on the sculpture right) and other symbols are puzzle stones of Isa Genzken's stories.
The 'Actors' sculptures are the main items at the exhibition of Genzken's 'New Works'. They are dressed in the artist's own old clothing; some with decoration material or additional protective wear. "...the figures have virtually been staged in the room in systemic constellations that also reveal autobiographical aspects." introduces MMKFrankfurt in its press release into the exhibition which was co-produced with the Museum der Moderne in Salzburg where it was on view until 22 February 2015.
Isa Genzken's filmic sculpture dramaturgy can be seen at MMK Museum für Moderne Kunst in Frankfurt until 31 May 2015.
fig.: Isa Genzken, Schauspieler II, 2014. Courtesy Galerie Buchholz, Berlin, Köln, Hauser & Wirth, Zürich/London, David Zwirner, New York; Installationsansicht/exhibition view: 'Isa Genzken. New Works' at MMK Museum für Moderne Kunst, 14 March - 31 May 2015. Foto/photo: Axel Schneider © VG-Bild Kunst, Bonn 2015.


more culture>