22 July 2015

Kostas Murkudis' fashion designs in dialogue with the art collection of the MMK Frankfurt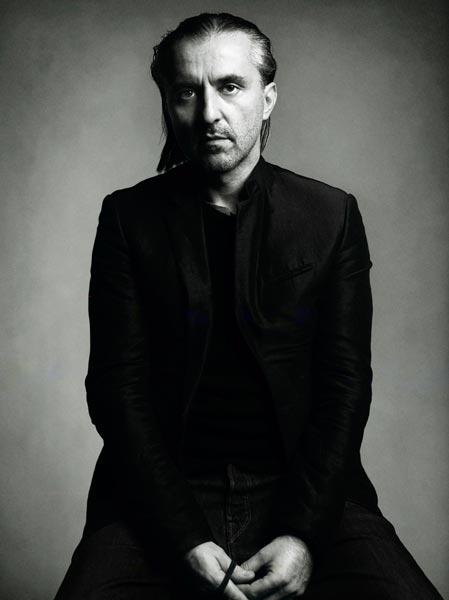 Recently on 17 July, the exhibition 'At Close Range: Kostas Murkudis and the MMK Collection' opened at the MMK (Museum für Moderne Kunst) Frankfurt am Main. On occasion of the exhibition which is about the influence of art on fashion, NJAL already published an interview with the German designer about themes such as his time with Helmut Lang in Vienna, and FAZ (the 'Frankfurter Allgemeine') spoke with him about his early life (beginning with Dresden where Murkudis was born in 1959) to the time when he discovered his creative talent, the directions his education with interests in graphic design, architecture and fashion took, as well as his admiration of art, especially mentioned the art works by Yves Klein.
fig.: Portrait of Kostas Murkudis. Photo: Magnus Reed.
At MMK Frankfurt, the fashion designer's work is set in relation to art pieces of the museum's collection such as on view on the image below where Kostas Murkudis' dresses are arranged in front of art works like the 'Snake Lake' by Steven Parrino from 1991 (on the image left).
"Art has accompanied me all my life; it's part of my life, part of my curiosity," states Kostas Murkudis as introduction into his work for the exhibition which is a good tip for diving into a dialogue between art (paintings by Yves Klein etc, sculpture... since the 1960s) and the development of contemporary fashion design. Kostas Murkudis focuses in this exhibition also on textiles; with selected works by Blinky Palermo, Sigmar Polke, etc Murkudis refers the importance of the structure of the surface for his creations.
"Artistic concepts and ways of working have always shaped Murkudis's work to a decisive degree. The links are manifest in his sculptural approach, his explorations of three-dimensional materials, his creative praxis, but also the presentation forms he chooses, which contrast clearly with the usual fashion show," observes Peter Gorschlüter, deputy director of the MMK and curator of the exhibition.
At Close Range: Kostas Murkudis and the MMK Collection can be viewed until 14 February 2016.
fig.: Section Kostas Murkudis, Autumn/Winter Kollektionen 2012–2014; exhibition view 'At Close Range: Kostas Murkudis and the MMK Collection' 17 July 2015 - 14 February 2016 at MMK 2, the new branch of the MMK Museum für Moderne Kunst Frankfurt am Main. The exhibition is designed by artist Carsten Nicolai and architect Aaron Werbick. Photo: Axel Schneider.