14 May 2015

The staging of window displays by an architect/designer in the 1920ies and the review by contemporary artists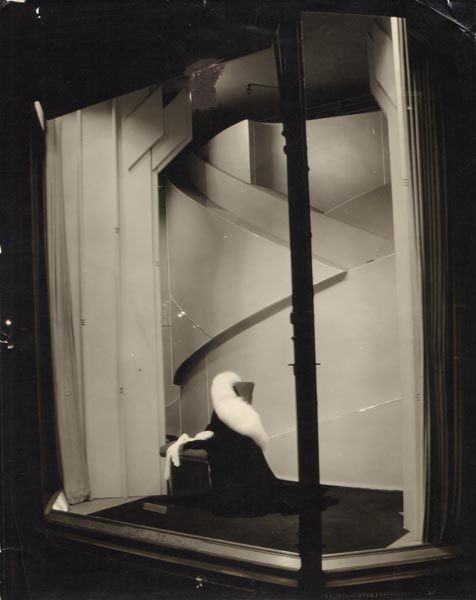 Architect, theatre designer, artist and theoretician Friedrich Kiesler's work was influenced by the art and social movements of his times - especially surrealism (Breton, Duchamp) and the social revolution of an emancipated, open minded society, and can be described as derived from a practical approach for applying art to design, architecture in public spaces such as to the design of window displays of the department store Saks Fifth Avenue in New York.

At the upcoming exhibition 'Function Follows Vision, Vision Follows Reality' from 27 May until 23 August 2015 at Kunsthalle Wien Karlsplatz, contemporary artists like Nicole Wermers (image below), Annette Kelm or Olga Balema will present reflections upon the architect/designer's oeuvre on occasion of the 125th birthday and 50th date of death of the Austro-Hungarian born (Czernowitz - today Ukraine) and in New York died Friedrich Kiesler. At the exhibition, the art works will be shown correspondingly to Friedrich Kiesler's sketches, texts and photos of his window displays for Saks.
fig. above: Friedrich Kiesler, window display design for Saks Fifth Avenue, 1927/28. Photo: (C) 2014 Österreichische Friedrich und Lillian Kiesler-Privatstiftung, Wien. Friedrich Kiesler (1890 - 1965) studied at the Technischen Hochschule and the Akademie der bildenden Künste in Vienna before he moved in 1926 to New York (biography). One year later, the architect, theatre designer and artist started with the staging of the window displays of Saks on Fifth Avenue. In 1930, Kiesel published his experiences in the book 'Contemporary Art Applied To The Store And Its Display' where he wrote down aesthetic laws for ideal window displays from building a bridge between art and daily life (more at the chronology on Kiesler.org).
fig. below: Nicole Wermers, Infrastruktur, 2015, Installationsansicht Herald St, London, Courtesy Herald St, London. Nicole Wermers, born 1971 in Emsdetten, lives in London and Emsdetten. Selected exhibitions: Salzburger Kunstverein (2015), Secession, Wien (2014), Gropius Bau, Berlin (2013), MMK Frankfurt (2013), MACRO, Rom (2012), Kölnischer Kunstverein, Köln (2012), Hayward Gallery, London (2010), Garage Centre for Contemporary Arts, Moskau (2010).