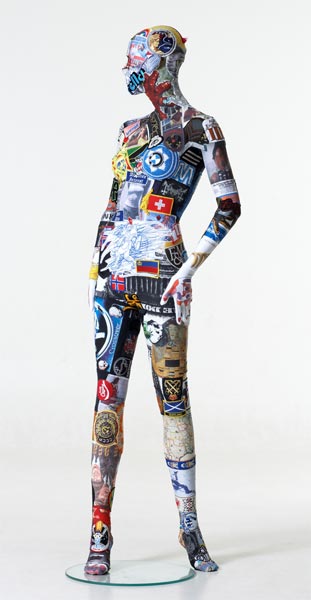 17 July 2015

Stylish art works seen at the preview of the upcoming art fair viennacontemporary
From 24 - 27 September, the international art fair 'viennacontemporary' will be held at the new event location 'Marx Halle' in Vienna. Around 100 galleries will exhibit works by ca 1.000 contemporary artists with special focus on Eastern Europe and Austria. Fashionoffice looked through the preview images; the first impression summarized: stylish works that meet the zeitgeist. Such as the 'Shelter (Ad Example)' from the 'Shelter'-series by the Austrian artist (1966 in Graz born, living in Vienna) Manfred Erjautz who presents a store window mannequin covered with various ad stickers, pictures of surfers and other lifestyle images. Her covering appears lke an all-over body suit (inclusively head, hands and feet) that is patterned with the depiction of a constructed universe of values and desires how it's created daily by media and its advertising industry. The mannequin will be exhibited by Galerie Mario Mauroner. Manfred Erjautz' 'Shelter' is an on-going project which runs now since several years. Online articles associate the work with critic on consumerism; in an article on Artmagazine.cc, the figures of the series stand for fashion-victims, for willing victims of sado-maso acts. The dummies are on tour and after viennacontemporary in September one of the next destinations where the art works by Manfred Erjautz will be on view is the fair 'Art Paris' from 31 March to 3 April 2016 at Grand Palais.
Tip: Viennacontemporary at Marx Halle offers a voucher online (pdf) for visiting the fair for a reduced price.
fig.: 'Shelter (Ad Example)' by Manfred Erjautz, 2012. Material: mannequin, fabric, metal, glass; size: 180 x 57 x 46 cm. Photo provided by viennacontemporary; (C) Courtesy of the artist and Galerie Mario Mauroner Contemporary Art Vienna, Austria.


more culture>