7 November 2015

Early computer/internet integrating conceptual and media artist Margot Pilz retrospective and fashion/jewellery tour during Vienna Art Week in November 2015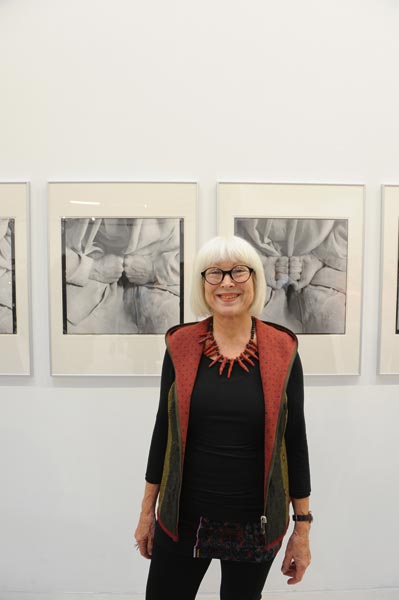 One of the highlights of the 11th Vienna Art Week under this year's motto 'Creating Common Good' from 16 to 22 November 2015 is the exhibition 'Margot Pilz - Milestones. From Performative Photography to Digital Field Studies' at MUSA. Already in the mid-1980ies, Margot Pilz has expressed the new computer aesthetics with digitally reworked photographic images. In the early 1990ies, the Austrian pioneer began to develop interactive computer/internet installations such as the solar powered internet platform 'Delphi Digital' (1991) where users were invited to ask via email questions concerning environmental policy and democracy. The 'Delphi Digital' platform will be revived at the upcoming exhibition at MUSA; only that users can interact - almost 25 years later - via their own small mobile computers, their smartphones (closer information on viennaartweek.at).
fig.: Portrait of conceptual and media artist Margot Pilz. Opening of the exhibition 'Margot Pilz - Milestones' on 17 November during Vienna Art Week at MUSA in Vienna. The exhibition will be on view from 18 November 2015 until 5 March 2016. Photo: (C) MUSA.
The program of Vienna Art Week is extensive; one of the art week's tours leads through the city to four fashion and jewellery destinations; on 21 November, participants of the guided tour will visit the space of fashion label 'art point' by designer Lena Kvadrat, the fashion-art-design-culture lab 'Im Ersten', the hat manufactory 'Mühlbauer' and the studio of the jewellery artists of 'StossImHimmel'.