17 May 2015

The impact of the search for freedom on music, art, design objects and advertising
Since the 1960ies, musicians, artists and designers (like fashion designers) use their products to communicate social-political content. The 60ies brought out even new marketing and advertising concepts which were executed by copywriters, graphic designers, photographers, film directors who incorporated strategies of opinion-makers from the other artistic fields and their believes in changing the world through the means of media - and in the case of advertising or music it concerned mass-media like TV or radio.
From 11 July until 22 November 2015, MCA Chicago will set music and art into dialog with additional design objects like record covers, posters, banners, brochures etc. under the title 'The Freedom Principle. Experiments in Art and Music, 1965 to Now' and introduces into this new language which connects art, music and design. The exhibition focuses especially on the African-American arts scene on the South Side of Chicago and it's continuing influence on the contemporary art and culture until today.
One of the art works at 'The Freedom Principle' exhibition is the sculpture group 'Speak Louder' by Nick Cave (image below). The Chicago based artist (performance, installation...), designer and chairman of the Fashion Department of the School of the Art Institute of Chicago combines music, art, design and the expression of social-political content in his oeuvre. Probably best known are Nick Cave's 'Soundsuits' (costumes which make sound in movements, video with interview and excerpts of the dance performances) which carry environmental ideas (preservation nature) for a better future and stand with their second skin body-masks for judging without measuring on gender or race. The art works attracted already fashion media such as Vogue Magazine which released in September 2010 an eight pages photo editorial with Nick Cave's Soundsuits styled together with accessories by fashion houses like Yves Saint Laurent and Dior.
The Soundsuits are the name givers of the artist's SoundsuitShop.com where design products are on sale. One of them is the Punching Bag - a redesigned Soundsuit costume, which can be filled with sand or water at the lower cavity, air in the upper and the sparring partner is ready. Nick Cave's art was reworked by SoundsuitShop.com design director Bob Faust. On the website, the product instruction guide gives a hint how to use it: You can battle until your heart is content or enjoy it as sculptural object.
fig.: 'Speak Louder' by Nick Cave, 2011. The group of seven sculptures is dressed in silver metallic-appearing costumes and gramophone-like headwear. The silver shine comes from the uncountable huge amount of pearl buttons which are stitched all over. The figures are connected by the fabric of their costumes like with a wire. Courtesy of the artist and Jack Shainman Gallery, New York. Photo: James Prinz Photography.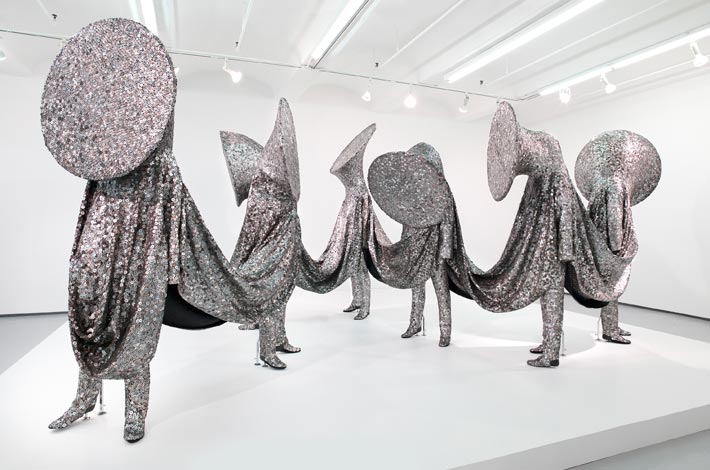 more culture>