29 November 2015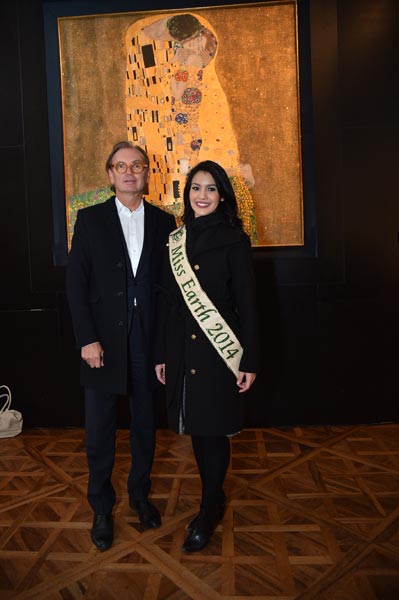 Miss Earth 2015 Delegates on tour through Austria
Currently, the Miss Earth 2015 Delegates (86 from all over the world) in company with the reigning Miss Earth 2014 Jamie Herrell are on tour through Austria. Since around two weeks, highlights of their visits are covered by daily press and TV. On facebook.com/MissEarth, the promoters of environmental protection post images and news from the stations. The gallery provides an insight into Austria from the perspectives lifestyle, entertainment, fashion, textile, culinary, environmental activism and art. One of the latest tours led them to the museum of Lower Belvedere where they visited together with Belvedere Deputy Director Alfred Weidinger the exhibition 'The Women of Klimt, Schiele and Kokoschka'.
On 5 December, the final round of the Miss Earth 2015 competition with coronation will happen at Marx Halle in Vienna. The event will be broadcasted live in Austria and via international TV networks.
fig.: Belvedere Deputy Director Alfred Weidinger and reigning Miss Earth 2014 Jamie Herrell in front of 'The Kiss' by Gustav Klimt on 27 November 2015 at Lower Belvedere. Image below: The 87 Miss Earth beauties and Alfred Weidinger in the garden of Belvedere with view from Lower Belvedere to Upper Belvedere. Photos: (C) Andreas Tischler.