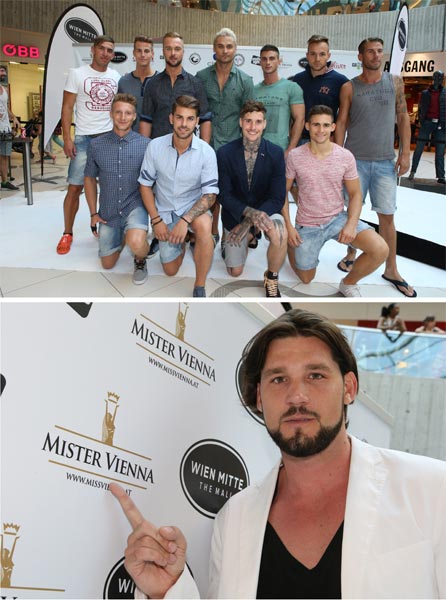 7 August 2015

The finalists of the 'Mister Vienna' 2015 title
Yesterday, the finalists of this year's 'Mister Vienna' title presented themselves in front of the public in fashion from the current s.Oliver men's wear lines 'Men' and 'Premium Men' at The Mall in Wien Mitte.
Wien Mitte The Mall is a shopping mall on 30.000 m2 with around 50 stores such as H&M or Swarovski; the mall counts ca 47.000 visitors daily. The building houses also one of Vienna's most important hubs for public transportation services (bus, tram, underground train and other train services) such as the CAT - City Airport Train which brings flight passengers directly to or from the airport to the middle of the city (Wien Mitte).
Fabian Plato (photo right) and Mario Soldo have searched several months for the best looking men; on 19 August 'Mister Vienna' will be selected at Vienna City Beach Club. A photo where the finalists present themselves in beach fashion is posted on Mister Vienna's Facebook.

Photos: Andreas Lepsi / LEPSIFOTO / Austria. (C) ROBIN COBSULT/Lepsi.


more culture>