Diesel SS2015 campaign photographed by Nick Knight, 9 February 2015

Diesel's campaign message: laugh - even in hard times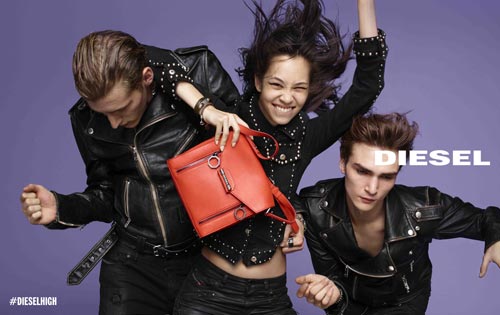 Today, Diesel presented the new campaign images photographed by Nick Knight for Spring/Summer 2015. Diesel creative director Nicola Formichetti says about the making-of the campaign which is about enjoying every moment of life: "There are so many crazy things happening now that you don't see people just having fun any more. The challenge was to work with an avant-garde photographer, Nick Knight, and get him to do something he's rarely done – which is shoot people smiling. It feels spontaneous, like they are selfies and he's just the one snapping the photo."
The images of the SS15-series show day wear and party pieces that reach from glamorous black leather (picture above) over comfortable jeans outfits to leisure wear items in natural suede and on one of the transmitted photos, Diesel's underwear in denim optic (photo below) is on view. The campaign runs under the hashtag #DieselHigh which stands for enjoying the ride of life and for the creation of positive new energy for the world.
Credits of the Diesel Spring/Summer 2015 campaign #DieselHigh:
Artistic Director: Nicola Formichetti
Creative Director: Jacob Wildschiødtz
Photographer: Nick Knight
Stylist: Anna Trevelyan
Talents:
Charlotte Free
Kiko Mizuhara
Winnie Harlow
Bruce
Sabrina
Gryphone O'Shea
Surren Senevirate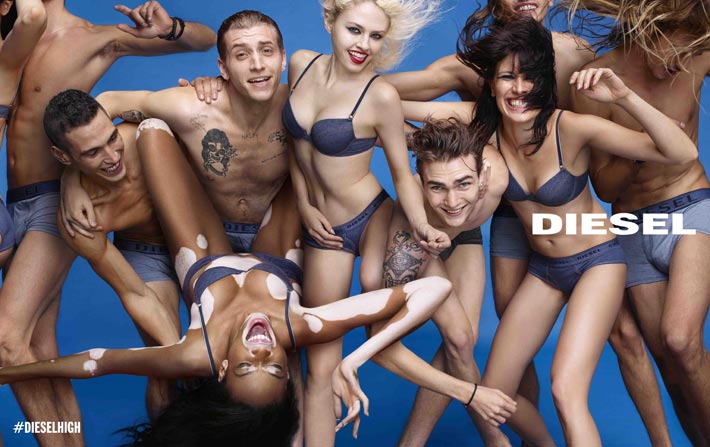 more culture>