Reebok and mixed martial arts athlete Conor McGregor, 19 January 2015

Mixed martial arts superstar Conor McGregor represents footwear and apparel by Reebok
Collaborations between sports fashion labels and athletes are common such as recently mentioned on Fashionoffice the one of adidas by Stella McCartney with New York-based personal trainer, artist and dancer Nicole Winhoffer, or Reebok with online/offline workout specialist Johanna Fellner. But collaborations with athletes from mixed martial arts (MMA) are relatively rare, although - according to Reebok, 35 million people around the world train sports like boxing (combat sports) or karate (martial arts) and even though, MMA is the fastest growing sports in the world.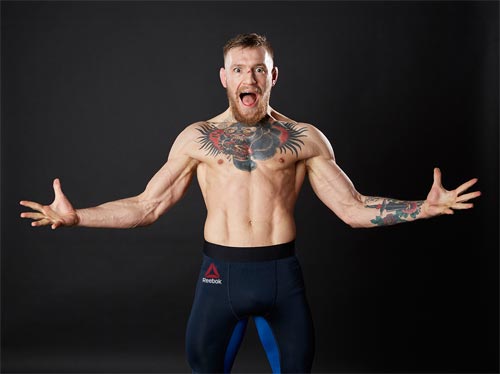 Recently, Reebok as partner of the Ultimate Fighting Championship (UFC) presented the Irish UFC Featherweight Conor McGregor as protagonist of the label's footwear and apparel. The 26 years old is martial arts superstar and ranked as #5 in the UFC Featherweight division. UFC President Dana White about the athlete who became a star in only two years: "Conor is without a doubt one of the most exciting fighters we have ever had in the UFC."
At his latest fight yesterday on 18 January at the UFC Fight Night in Boston, Massachusetts, Conor McGregor wore his first-ever 'Reebok Walkout T-Shirt' when he met #10-ranked Dennis Siver on stage. A video by FOX shows him in the t-shirt; video shared via Conor McGregor's Facebook page. After the fight (which he won), Conor McGregor (nickname 'The Notorious') jumped off the fence and stormed towards one of his next fight rivals UFC Featherweight Champion José Aldo. Check out details and video from the fence jump on mmamania.com.


more culture>