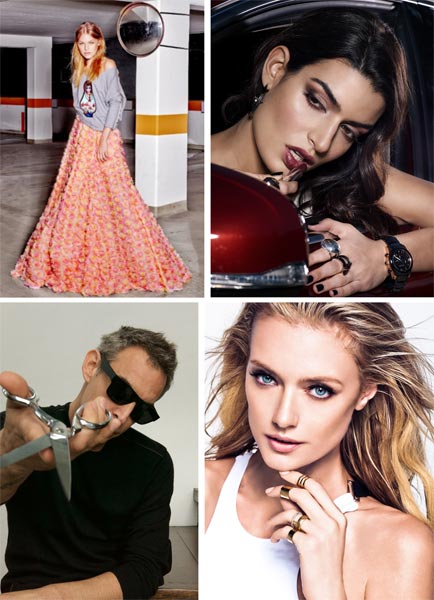 13 Appril 2015

Prominent jury at the live fashion voting at Ringstrassen-Galerien in Vienna
In two days on 15 April 2015, the 12th Ringstrassen-Galerien Award will be celebrated with a Fashion-Gala in Vienna. The Ringstrassen-Galerien is a shopping, gastronomy center which is installed in two houses connected by a bridge at the Wiener Ringstrasse; the State Opera or the Austrian Parliament are located at the same street.
Already in February this year, designers from the whole world had sent their designs to the theme 'Urban Classic'. In a pre-voting, the finalists were selected such as the Hungarian label Prieston (Spring/Summer 2015 glam/urban outfit consisting of a grey sweater with long skirt on view on this page). Find the full list of finalists at the Facebook post at the bottom.
On 15 April, prominent jury members such as Bond Girl (Skyfall, 2012) Tonia Sotiropoulou and model/actress, life partner of Mickey Rourke Anastassija Makarenko will select the winner of the Ringstrassen-Galerien Award. Adam Saaks will attend the gala as special guest. He is also known as 'Adam Scissor Hands' who turns t-shirts in live cutting performances into unique couture.
fig. from left, clockwise: Outfit by the Hungarian fashion label Prieston (Photo: (C) Prieston); Bond Girl, actress and model Tonia Sotiropoulou (Photo: (C) John Athimaritis); model/actress Anastassija Makarenko (Photo: (C) Anastassija Makarenko); portrait of Adam Saaks (Photo: (C) Adam Saaks).
The items of the finalists are already exhibited at the Ringstrassen-Galerien; the FB posting below provides information where they are on show. It's announced that after the Fashion-Gala, the stores 4 Jahreszeiten, B&R Fashion, Jack Wolfskin, Norton and the Grand Hotel/The Ring will host Designer Award Pop-Up stores with collections by the finalists from 16 April until 30 May.



more culture>