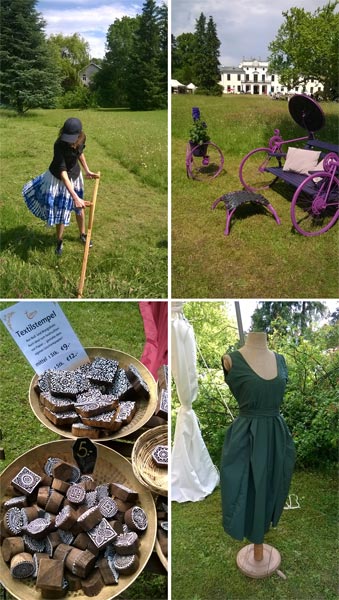 Vienna Insight by Karin Sawetz, publisher Fashionoffice
30 May 2015

Salon Jardin in the garden of Modeschule Wien at Schloss Hetzendorf
Today at Salon Jardin, the students of Vienna's probably most creative school for fashion Modeschule Wien haven't presented their work - this will happen at the education institution's legendary shows on 17 and 18 June.
Today, the fashion school opened the doors to its wonderful garden in front of the palace 'Hetzendorf' for the Salon Jardin where a strong focus was set on outdoor furniture such as the garden bench made from recycled old bicycles (picture above right) by 'Garten Rikscha'. The founders of the young upcycling company belong to this year's winners of the Salon Jardin competition. The garden show offered also 'interactive' entertainment such as the Schnitter who introduced into their scythe courses for urban gardeners and invited me to cut the meadow (image above left). Alongside the plants and garden sculptures by an artist, even fashion goods were for sale such as models for textile printing by Tara (retailers of Indian arts and crafts) and clothing by Vienna-based Linebins who plays with draperies and simple cuts such as on view at the green dress which fitted perfectly into today's scenery of a garden party with live music and culinary at Schloss Hetzendorf.
The three-day event Salon Jardin at Schloss Hetzendorf is open until tomorrow the 31st May (10.00 - 18.00).