1 May 2015

Impressions from the Volvo Ocean Race route from Spain towards the next destination Newport, US
On 4 October 2014, the Volvo Ocean Race started in Alicante in Spain and is currently on Leg 6 on its way to Newport in Rhode Island, US; estimated arrival of the six professional racing crews is between 7 and 8 May. The Volvo Ocean Race 2014-15 is the 12th running of this ocean marathon and spans over 39,379 nautical miles, visits 11 ports in eleven countries (Spain, South Africa, United Arab Emirates, China, New Zealand, Brazil, United States, Portugal, France, The Netherlands and Sweden) over nine months.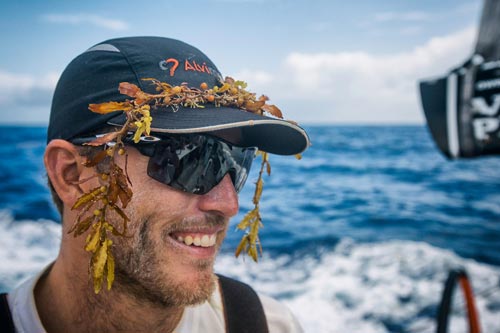 Since the beginning, the race is chronicled via photos, videos and 'From the boats' blog posts by team members. The latest news were sent from the Caribbean Sea and concern mainly the big seaweed fields which challenged the teams to manoeuvre the boats but brought fun too. The image by Onboard Reporter Armory Ross shows Bowman/Boat Captain Nick Dana/Team Alvimedica; Nick Dana is racing towards his home port Newport.
fig.: In this handout image provided by the Volvo Ocean Race, onboard Team Alvimedica, Nick Dana (born in Newport) showcasing the latest in fine ocean fashion, a Sargasso Weed Wig. The photo was shot on 28 April 2015 during Leg 6 from Itajai (Brazil) to Newport (Rhode Island, US). Photo by Amory Ross / Team Alvimedica / Volvo Ocean Race via Getty Images; (C) Amory Ross / Team Alvimedica / Volvo Ocean Race.
After the arrival on 7 - 8 May, the crews will stay for boat maintenance 10 days in Newport before heading out to Lisbon (Portugal), Lorient (France), The Hague (Netherlands) and Gothenburg (Sweden) where the route will be finished in June.


more culture>