28 February 2016

Augarten's 'Du Paquier' egg box carries a story about the cultural heritage of Austria and Europe

On occasion of the live Easter egg decoration by painters of the porcelain manufactory Augarten on 19 March in stores in Vienna (Spiegelgasse 3) and Linz (Am Taubenmarkt, Arkade), the porcelain producer sent some inspirations for Easter time such as the egg box 'Du Paquier' and the rabbit 'Hansi' by contemporary Austrian artist Gundi Dietz (image below). The well-fed rabbit with grumpy face will be available in limited edition of 10 pieces from March.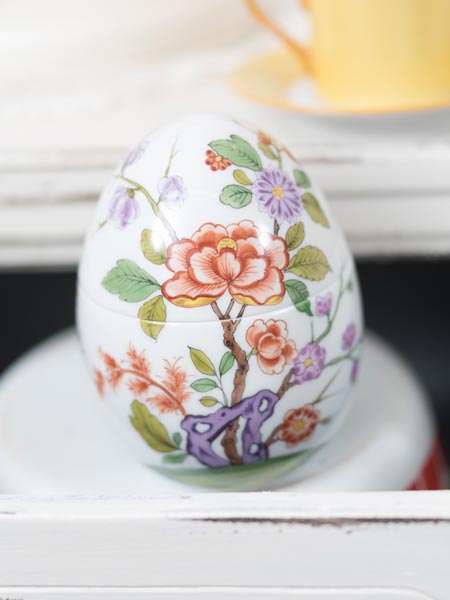 The egg box 'Du Paquier' (image right) shows the oldest pattern which is painted by Augarten on porcelain. The name of the egg as well as the pattern tell the history of porcelain table ware and art; especially how the heritage of Austrian culture has grown out of European history. Already in the early 18th century, European countries were very close in politics, economy and culture. Despite many geographical borders, different languages and governments, the countries on the continent, especially in Central Europe were in continuous exchange of knowledge and goods. Such as Claudius Innocentius du Paquier who disclosed the secret of porcelain making and founded Europe's second porcelain manufactory in Vienna (the first was Meissen); Du Paquier's manufactory is the forerunner of Augarten (founded in 1923 and owner of the rich archive of patterns). The 'Dubsky Pattern' on the egg is the oldest (from 1724) which is painted nowadays by Augarten on porcelain; it originates from the 'Du Paquier Era' (1717 - 1744) and is named after the so-called Dubsky Chamber - a room filled with porcelain. The chamber was originally located at a palace in Brno and is today on view at MAK - Museum of Applied Arts in Vienna where from June to October 2018 the anniversary exhibition '300 Years of Wiener Porzellanmanufaktur' on occasion of the founding of the Viennese porcelain manufactory by Claudius Innocentius du Paquier in 1718 will be on view.

fig. Easter inspirations by Augarten porcelain manufactory Vienna: Egg box 'Du Paquier'. Photo: (C) Arnold Poeschl. Below: Rabbit 'Hansi' by Gundi Dietz (available in limited edition of 10 pieces from March 2016). Photo: T.Dietz; (C) ..DIET. Both photos provided by Augarten Porzellan.