29 November 2016

Burgenland, Austria Insight: Bags, shoes and children's toys at the Christmas market in Rust
Winter markets - often named Christmas or Advent markets, are good sources for insights into regional arts & crafts scenes. In Austria, there are only few designers or artists who appear with their names in media or represent officially the country's fashion industry. Fashionoffice hasn't the exact numbers of regional workshops' share of total sales of all fashion, shoe or bag manufactories in Austria - but it's not always the total turnover that counts or the glitter-glam of celebrities that attracts. People love the regional products as they reflect their identity; these goods are part of what Austrians define 'home'.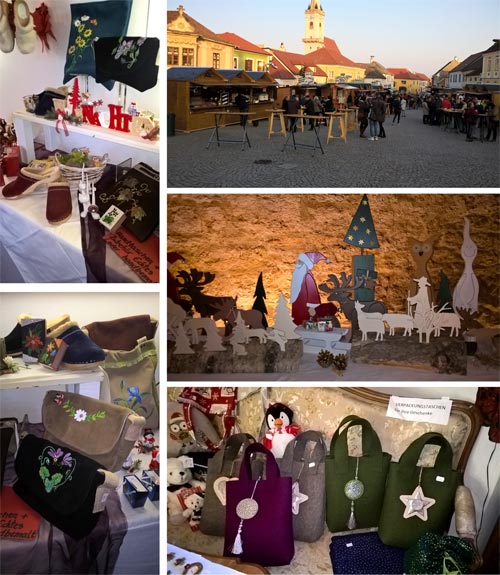 One of these very typical regional markets is the one in Rust. Fashionoffice visited it on Saturday, the 26th November. Rust is a town at lake Neusiedl (Neusiedlersee) in Burgenland, Austria. The market happens at the Town Hall Square and inside selected houses like the Kremayr house where the town museum is located. At the Kremayr house, artisans like wood carvers present their kid's toys and Christmas decorations, and even fashion products with strong regional roots are sold such as the hand painted leather bags and sandals with wood sole (two images left). The wood sandal - the Zoggel, is a beloved work- and leisure-shoe in Styria and Carinthia. The tote bags (on view at the image below right) are for X-Mas gifts and can be used afterwards as everyday bags (without the embellishments).

Related articles: