31 March 2016

Essl Museum exhibits views by artists on 'Body & Soul' from the early 50ies to nowadays
"Search the internet for body and soul and you will find an interminable list of gyms and model agencies. Has the toned-into-shape body become a fetish for the soul, or even taken its place?" notes Essl Museum's 'Body & Soul' (6 April until 4 September) co-curator Andreas Hoffer and delivers immediately the answer: "Not really."
With art it's the same as with culinary or fashion where individual tastes decide. How boring would the world be when we eat and wear the same or have similar paintings on the wall? But even when today's society is fortunately multifaceted - much more than in the 50ies or 60ies, some culinary, fashion or art works match better the taste of larger groups - which is nowadays in the more educated (mass-)society a quality sign.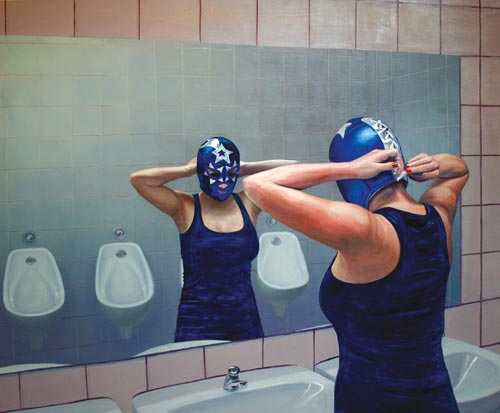 Austria's only museum which was built from a private collection of mainly significant Austrian contemporary art over the last 50 years is the Essl Museum. From 6 April until 4 September, selected art works of the Agnes and Karlheinz Essl collection will be shown under the title 'Body & Soul'. The curation and the hanging of the art works of the exhibition sound promising. In general, 'Body & Soul' will introduce into artists' various perspectives on the body and how it was visually discussed through more than a half century; a time which changed the tastes. The painting 'Estrella' by Hungarian artist Patrícia Jagicza for example (image above) received the most likes on Essl Museum's Facebook during the exhibition 'Like it!' in 2013; as reason is mentioned the theme of the painting which concerns gender debate and toying with different identities. Since the early 50ies, the people's consciousness of the (naked) body has changed continuously; perhaps that's the reason why not only one but several exhibition rooms will be dedicated to female and male identity and autonomy.
Even media and public sphere will be thematized and represented with works by Valie Export and Elke Krystufek.
fig.: 'Estrella' by Patrícia Jagicza, 2010. Oil on canvas, 150 x 180 cm. © Sammlung Essl Privatstiftung, Fotonachweis: Archiv des Künstlers.


more culture>