12 April 2016

Fashion & Art School Herbststrasse pays tribute to artisanal work at Take Festival in Vienna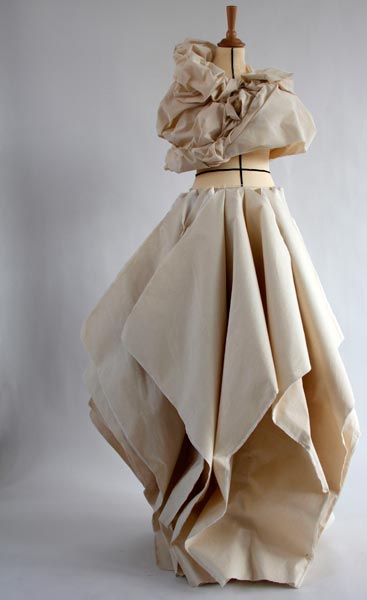 Take Festival Vienna presents an extensive program with focus on fashion shows (article about 'departure fashion night'), performances, photography, art exhibitions and talks for the five days event series from 19 to 23 April. Photo and art exhibitions are organized under the title 'Parcours'; one of the Parcours events is the exhibition 'RAW' with creations by students of the Viennese Fashion & Art School Herbststrasse. The creations are draperies on dolls made of raw-cotton how it's common in ready-to-wear industry as well as in couture. Not only one-of-a-kind-pieces are developed in the first step with cheaper - often molino - material to test the pattern before luxurious fabrics are used. In an interview published on the Take Festival's blog, Herbststrasse director Gabriele Sulzgruber-Schartl speaks about the making-of the collection which is created by 72 students of the 'Kolleg für Mode-Design-Textil'.
At Take Festival, the RAW exhibition provides insights into artisanal work how it happens behind-the-scenes of the fashion business and often carried out by designers, couturiers who stay as label team members anonymous.
fig.: 'RAW' exhibition by Fashion & Art School Herbststrasse during Take Festival Vienna (19 - 23 April 2016). Designer: Anna-Maria Nößler. Photography: (C) Herbststrasse, Evelyn Stermitz.


more culture>