17 November 2016

New winter market with fashion design labels: 'Ochs + Esel Wintermarkt' at Creau in Vienna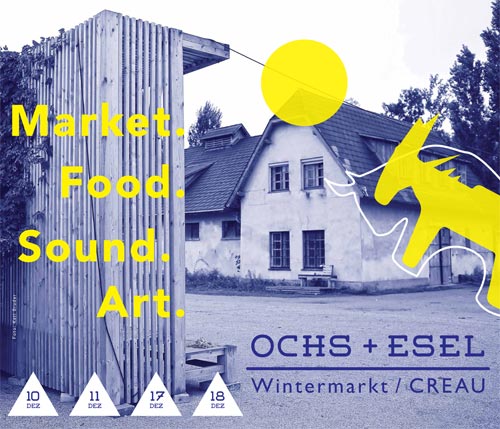 'Creau' is a new area nearby the campus of the University of Economics and Business in Vienna. At two weekends - Saturday 10th / Sunday 11th December and 17 / 18 December, artists, musicians and designers will present their artworks, perform music live, play theater, and will sell their fashion and accessories at the winter market 'Ochs + Esel - Market. Food. Sound. Art.' (sujet on view on this page). The designer goods range from ceramics to scarves, bags to jewelry. They can be found at the 'Multibrand Designer Box'; the list of attending designers is published on Facebook.
Creau is the area of the former horse stables of the horse racing circuit 'Trabrennbahn Krieau'; it's the best place to let children ride on horses! At Ochs + Esel, pony riding is part of the children's program.
Illustration Imagecredit: Kathi Bruder/Birgit Guttenberger