31 May 2016

Fashion, music, interior market by designers, artists, stylists, bloggers... at Aux Gazelles in Vienna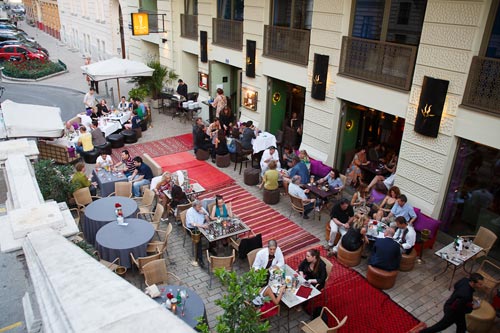 On next Saturday the 4th June, the 'Firlefanz' design and flea market will happen for the third time in front and inside of the oriental restaurant Aux Gazelles nearby Museumsquartier in Vienna. The market is a mix of new and already used fashion, jewelry, art, music or interior brought by more than 30 exhibitors from creative fields like design, styling or blogging.
The 'Firlefanz' market is organized by blogger Lena Catarina Kratz (mithandkuss.com) and accompanied by oriental, especially Moroccan culinary by Aux Gazelles (from 11.00 to 16.00 Oriental Brunch, and from 16.00 - 18.00 Happy Hour). Aux Gazelles will be also one of the exhbitors with the pre-sale of new items (beauty oils, caftans to lamps, ceramic tableware) collected by the restaurant owner Christine Ruckendorfer in Morocco. (Event on Facebook)
fig.: The image above shows people sitting at the oriental staging in front of the restaurant, bar Aux Gazelles in Vienna. Photo: Aux Gazelles, (C) Florian Wieser.
Below: Shoes and sunglasses at one of the 'Firlefanz' booths. Photo: Lena Catarina Kratz.