18 September 2016

Fashionoffice mountain FW16/17 tip: horse riding tours
One of the trending mountain activities here in Austria are horse riding tours. Beloved therefore are Haflinger horses which are typical alpine horses. Several destinations offer riding tours with these strong and tough horses which can be recommended even for beginners or youth. It's easy to handle the peaceful Haflinger and the danger to be dropped is low; literally 'low' as in the (rare) case the Haflinger wants to get rid of the rider, the distance to earth is not so far from the back of this comfortable, smaller horse with blonde mane.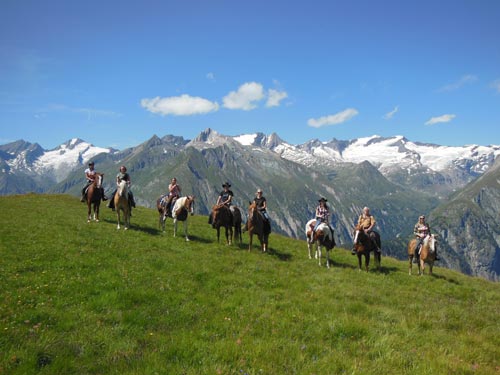 The Austrian travel information website Austria.info collected some tips for horse riding such as the Tyrolean Ortnerhof where the traditional European alpine Haflinger and the classical 'Western' Quarter Horses are bred. The Ortnerhof hasn't only a horse breed, it offers horse riding tours and guest accommodations from single rooms to family apartments as well.
Only one of possible tours is the Ortnerhof 'Großvenediger Reittour' which goes over two days along the mountain group 'Venediger' in the region of the Hohe Tauern in Tyrol. Riders can choose between English and Western saddles for the horses. This tour is for advanced riders who can go into gallop - without losing control. Required outfit: Horse trekking clothing, weather and sun protection.
fig.: Snapshot of riders of an Ortnerhof Haflinger, Quarter Horse tour with the title 'High up in gallop' (in German 'Hoch hinaus im Galopp'). Photo: (C) Osttirol Werbung, Ortnerhof.

One of the horse related news on austria.info leads to a page with video (source) which shows horse riding not far away from the Großvenediger at the border of the Hohe Tauern region at Katschberg.