7 October 2016

Fashionoffice snow sport tip: early morning skiing
Austria.info researched favored holiday activities in the alpine region for a collection of highlights and published them under the title 'Winter Trends 16/17'. Alongside to snowshoe hikes, cross-country skiing or night-time torch hikes, there is one trend which is perfect for the ones who are sporty and early risers: early morning activities (skiing, hiking) have the benefit of a special nature experience of the rising sun in the mountains and especially skiers will appreciate the fresh slopes with crunchy-powdery snow.
Austria.info collected several early morning activities; one of the most interesting offers in the field skiing is Early Morning Skiing in Bad Kleinkirchheim (Carinthia) which is guided by a ski sport professional - Olympic gold medalist and record holder of the most medals in World Cup Downhill (men's) races Franz Klammer, and includes a breakfast and an Alps-Adria-Cuisine brunch. The concept of the tour isn't a race but comfortable, joyful skiing which starts at 6.30 with breakfast at the station Kaiserburgbahn. From around 7.30 until ca. 9.00, it's time for skiing. After the Early Morning Skiing tour at around 9.30, the brunch at the Klammerstubn at the mountain restaurant Kaiserburg starts.
fig.: Franz Klammer (also called for his success in ski sport 'Skikaiser') is the guide of the Early Morning Skiing tours in Bad Kleinkirchheim. Photo: (C) Daniel Gollner, Tourismusregion Bad Kleinkirchheim.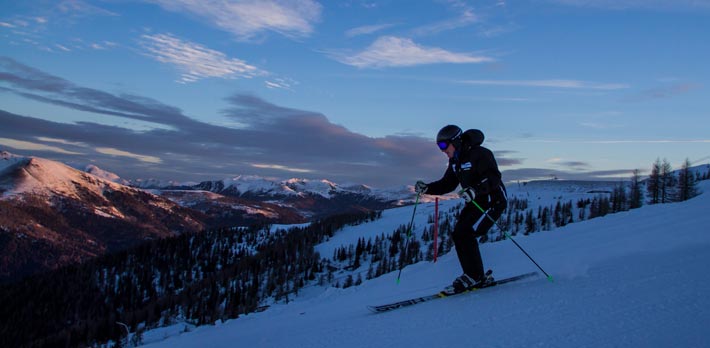 more culture>