15 November 2016

Austrian folk dance 'Trestern' presented with remixed version by artist Thomas Hörl at Volkskundemuseum
The Austrian museum of folk life and art 'Volkskundemuseum' in Vienna is known for digging out traditions which are known by a few and for elaborating exhibitions in collaboration with scientists and artists who deliver the knowledge about the regional traditions and transfer them into our times; in the following case, with remixed film and music.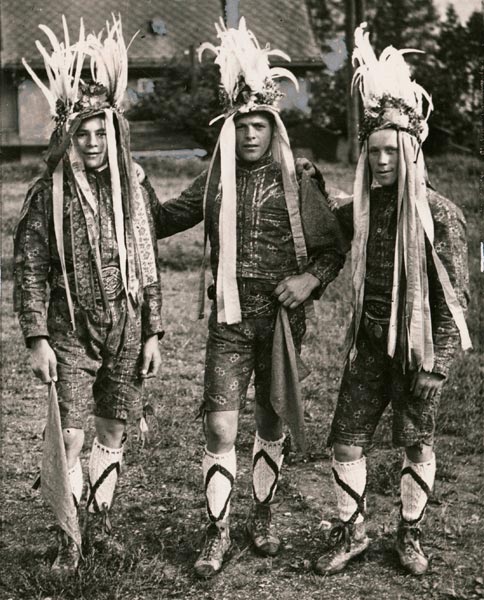 At the upcoming show '"Matthias" tanzt. Salzburger Tresterer on stage' about the Salzburg folk dance Trestern (18 November 2016 until 19 February 2017), the Volkskundemuseum team throws light on the movements of the (only male) dancers in red-golden costumes. They are dressed in brocade jackets with trousers and wear ribbon trimmed hats which are embellished with white rooster feathers. Their round dance movements are combinations of stamp and jump steps (which are perhaps referencing preparations of seeds for sowing). The regional center of the Salzburg custom 'Trestern' is located at the Pinzgau where it belongs to the tradition that dancers appear around 5th January at taverns and private homes. So far, some of the facts. For the exhibition, the results of the scientific research (presented with documents, original costumes, historical analysis like cross-references to the carnival in Venice,...) are integrated into an artful as well as entertaining-interactive framework.
fig.: Three young Tresterer at the festival Gautrachtenfest in Zell am See, Austria, 1937.
Photo: © Volkskundemuseum Wien.
For the artistic part, Volkskundemuseum collaborates with the Austrian artist Thomas Hörl whose 'Tresterersie' art-documentary-installation is about the Pinzgau dancer Matthias Eder. The artwork transfers the tradition into our times. Therefore he works with vintage footage such as a film from 1939 and quasi 'hacks' it: in the 'Tresterersie' video, the artist dances with Matthias Eder. Film and photos are accompanied by sound interpretations of original recordings once produced by Matthias Eder between 1898 and 1939. At the interactive part of the exhibition, visitors can dance to the DJ-remixes by Cherry Sunkist and das_em. (Thomas Hörl speaks in a video about 'Triestersie'.)
One of the exhibition's special events is for example a workshop with artist Thomas Hörl on 28 January 2017. At '"Collage" tanzt', workshop members will elaborate a multimedia-group-art-choreography consisting of sound, video,...


more culture>