7 June 2016

Austrian national football player David Alaba with ball-fan hairstyle on view at a digital exhibition in Krems and Paris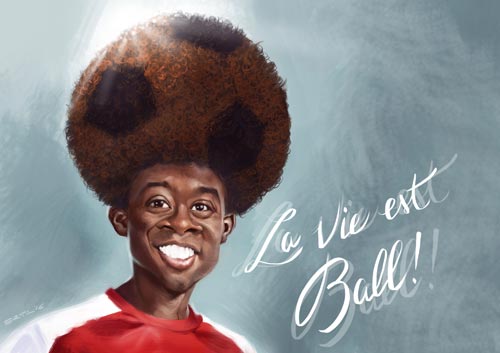 The illustration with 'La vie est Ball!' writing of the prominent player of the Austrian national team David Alaba by Vienna based caricature artist Bernd Ertl is one of around 50 caricatures and cartoons by ca. 30 artists of the project 'Allez les Autrichiens – Frankreich, wir kommen!' which was initiated on occasion of the EURO 2016 by the Austrian Cultural Forum Paris. The works will be exhibited digitally at the same time at Karikaturmuseum in Krems, Austria and at the Austrian Embassy in Paris, France from 10 June, the day of the start of EURO 2016. Many of the caricatures and cartoons were especially created for the project. From the fascination, the cult around the game to critical views on politics, corruption, the illustrations will serve various aspects from different angles in a humorous way.
It's announced that the digital exhibition will be accompanied by social media activities via Facebook.
fig.: 'Ballaba' (2016) by Bernd Ertl is a caricature about the cult which is celebrated around football. On view is Austria's popular number one national football player David Alaba with ball-fan hairstyle; the illustration carries the writing 'La vie est Ball!'. Photo: © Bernd Ertl, 2016.


more culture>