1 March 2016

Freywille's pattern 'Pepita Rose Pastel' is inspired by Spanish flamenco dancer Josefa de Oliva, textile design, special roses and Pantone 2016 colors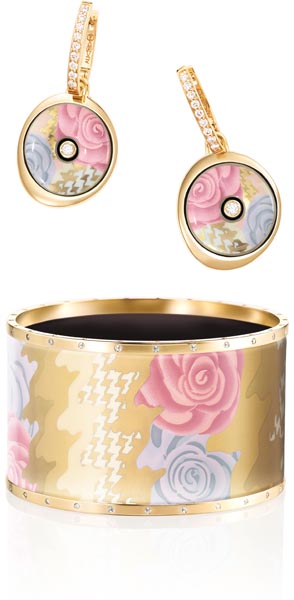 It's the first time ever that Pantone has presented two colors as the so-called Color of the Year; the 'Pantone Color(s) of the Year 2016' stands for gender equality and fluidity. Since the colors are public, the industry delivers not only single pieces in rose quartz and serenity, but also patterns made of both tones such as recently presented by Austrian jewelry label Freywille. The 'Pepita Rose Pastel' enamel, gold, diamonds range consists of bracelets, ring, earrings, pendants and watch showing pairs of flowers in rose and blue together with a two colors chess game-like pattern. Freywille introduces into the inspiration of the pattern 'Pepita Rose' and explains that the jewelry pays homage to Spanish flamenco dancer Josefa de Oliva aka 'Pepita'. The word designates also the - in the main cases black-white - cube pattern 'pepita' which is very similar to the classical hound's tooth or vichy check and was one of the favorite patterns of clothing in the 19th century, the time Josefa de Oliva lived. One of the circulating theories is that the dancer is the name giver of the pattern. For 'Pepita Rose', Freywille mixed the textile pattern pepita and flowers in the look of a rose species which carries the name 'pepita'; the 'Pepita Rose Pastel'-version is colored in rose quartz and serenity tones.

fig.: Earrings and bangle of the 'Pepita Rose Pastel' range of the 'Floral Symphony' collection by Freywille. Freywille was founded 1951 in Vienna and celebrates this year its 65 anniversary. The brand is known for collections which reference 20th century artworks by painters like Gustav Klimt, Hundertwasser or Claude Monet. Recently, Freywille contributed the jewelry to the red carpet outfit of the young actress of the Oscar 2016 nominated short film 'Alles wird gut' (Facebook post).
To the theme 'pattern' related Fashionoffice articles: