7 November 2016

Garden concept store 'The Golden Rabbit' selected tips for the fashionable, the routinier, the kitchen-gardener,...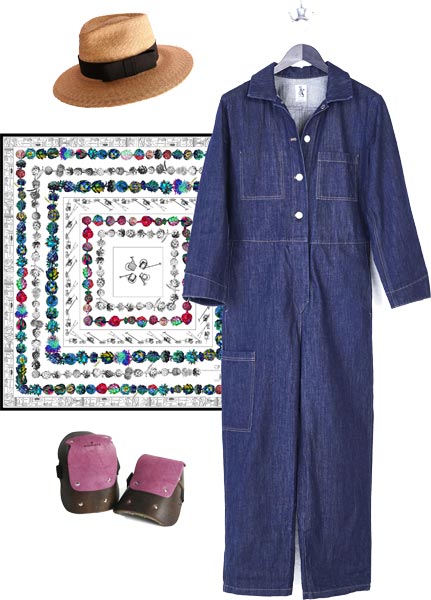 Düsseldorf-based garden concept store 'The Golden Rabbit' (opened this March, article) selected nine themes such as 'For the 'Fashionable', 'For the Routiniers' or 'For the Kitchen-Gardeners' and collected for each items from gardening tools over books to workwear. The nine themes are focused on the interests or characteristics of the individual gardener.
fig.: 'For the Fashionable', The Golden Rabbit arranged the label's signature denim overall which is inspired by classical workwear of the 1950s and made of environmental friendly produced material (Global Organic Textile Standard - GOTS certified) with pocket placements designed for gardening tools, the straw hat 'Sophie', a foulard with garden motifs from the special edition by VonSchwanenflügelPupke for The Golden Rabbit, and leather knee pads by Bradley the Tannery. Photos: (C) www.the-goldenrabbit.de.
'For the Routiniers', items such as a work jacket by the French manufactory Le Mont Saint Michel from the garden store's workwear category or Franzbranntwein by Stählemühle (for external use; rubbing or bathing benefits strained muscles) from the apothecary division.
The 'Kitchen-Gardeners' set consists of pieces like an apron from The Golden Rabbit's own workwear collection or the book 'Tender' about vegetables (from sowing seeds to harvesting) by British cook and food-journalist Nigel Slater. 'Tender' contains more than 500 recipes.
To mention here another tip-theme which is perhaps inspiring for the ones who think already about useful gifts for upcoming Christmas: 'For the very little ones' is dedicated to children. The toys and special gardening tools for children open the minds for the wonders of nature and train the skills to give these wonders a chance.


more culture>