3 May 2016
Celebrities' outfits at the Metropolitan Museum of Art Costume Institute Benefit 2016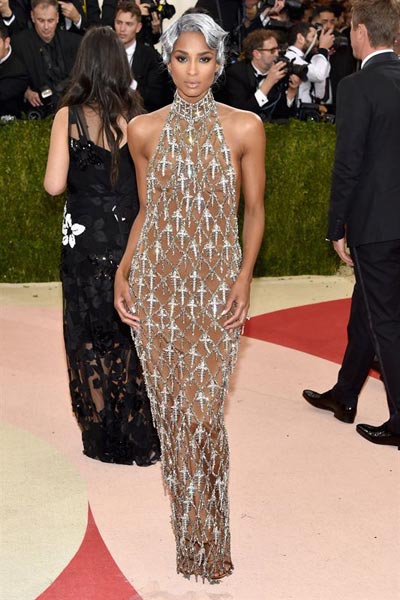 It seems as if almost every lifestyle magazine and daily news publication presents pictures of outfits of celebrities at the Metropolitan Museum of Art Costume Institute Benefit 2016 event which happened last night in New York City. At many of the articles, images via social media are embedded. The postings can be found on Twitter, Instagram or Facebook with hashtags like #metgala2016 or #ManusxMachina; last mentioned is the title of the upcoming Met Museum's exhibition 'Manus x Machina: Fashion in an Age of Technology' (5 May - 14 August). H&M is one of the labels which outfitted stars for the red carpet. The special creations are inspired by the theme of the exhibition which explores hand-crafts and new technologies how they are used in haute couture and ready-to-wear. The designers applied techniques such as laser-cutting, hand embroidery, feathering, stonework or crystal pleating.
One of the dresses which seem to be one of the favored in social media is the jewelry-like gown by singer Ciara (image on this page). She says about the design collaboration with the team of H&M: "I have been a huge fan of H&M for a long time and I am delighted to have been invited and also had the opportunity to create a unique gown with the team. It has truly been a special experience all the way around."
fig.: Singer Ciara in a gown by H&M at the Metropolitan Museum of Art Costume Institute Benefit 2016 on 2 May in New York City. Her dress is hand-made and makes think of haute jewelry. Pendants of Swarovski crystals hang from a diamond grid of leaf-like metal chain, with a choker neck and sporty racer back.
Other celebrities in H&M: Singer and actress Jennifer Hudson (video below), actress and singer Hailee Seinfeld, model Pyper America Smith, and model Amber Valletta.
The video by Vogue (embedded below) shows singer, actress Jennifer Hudson in a white bodice silk dress with hand-embellishment (3D bugle beads, French knots and hand-melted sequins). The dress is finished by a four-foot train.