21 September 2016
Insights into viennacontemporary (22 - 25 Sept): press talk, exhibition tour, interviews with directors and artists
Today at 10:00, viennacontemporary at Marx Halle at Karl-Farkas-Gasse 19 in Vienna opened the doors for the press. Fashionoffice announced Austria's largest art fair already with two articles (latest); but today, the Chairman of the board Dmitry Aksenov (at the image left), Artistic Director Christina Steinbrecher-Pfandt (middle), and Managing Director Renger van den Heuvel talked live in front of media and cameras about the concept of the art fair which started several years ago at another place and is located for the second time at Vienna's new event location Marx Halle in a region which became through the years increasingly a hub for media productions and a working area of the creative scene. One of the themes at the talk was the international approach of the art fair makers which begins with the team members - Aksenov is from Russia, Steinbrecher-Pfandt from Germany and Heuvel from Holland. Viennacontemporary partners with official institutions like Vienna Economic Chamber or the Austrian Federal Chancellery as well as museums like Jewish Museum Vienna, Kunst Haus Wien or MAK - Museum of Applied Arts. This year, viennacontemporary calculates with 25.000 to 30.000 visitors who will come to see the artworks presented by 112 galleries from 28 countries.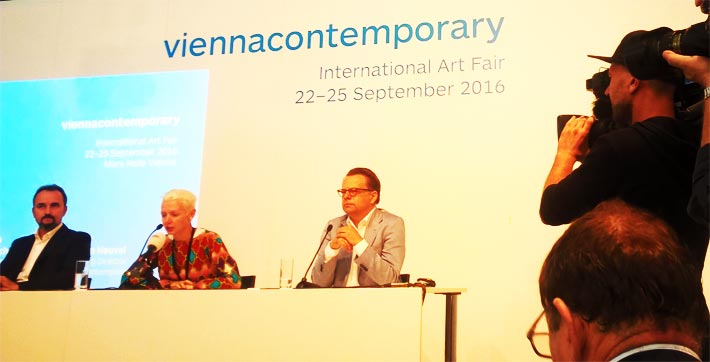 fig. below: Viennacontemporary Artistic Director Christina Steinbrecher-Pfandt (left), Postmasters Gallery (New York City) Artistic Director Paulina Bebecka.
Left: Fashionoffice met viennacontemporary Artistic Director Christina Steinbrecher-Pfandt at the Illy coffee bar in the entrance hall. She is responsible for the content of the art fair and organizes also the annually changing special themes. This year, viennacontemporary presents the special showcases 'Nordic Highlights' and 'Focus: Ex-Yugoslavia and Albania'. Asked about how the new location Marx Halle is accepted, Steinbrecher-Pfandt said that it was well adopted by exhibitors and visitors. Later at the talk, Managing Director Renger van den Heuvel announced that they are interested in extending the viennacontempoary-Marx Halle contract which runs currently until 2017.
Right: Paulina Bebecka is Artistic Director at Postmasters Gallery (New York City). She curated the collection of sculptures made between 1980 and now by 30 artists like Niki de Saint Phalle or Lawrence Weiner (on view left behind her). Postmasters' Paulina Bebecka entitled the collection 'this one is smaller than this one'. It's a fine selection of works made of various materials from porcelain, words, over wood, digital pixels on screens to re-sculptured found objects which transport ideas about our society or social political issues. For example: The re-sculptured found objects are used for portraits of homeless people; parts of the purchase of the sculptures by New York-based Peruvian artist C.J. Chueca go to an initiative for the support of homeless men and women.
Next: Viennacontemporary insights - part II: Public space sound architects 'Tonspur'