8 January 2016

Athleisure fashion, wearables like interactive shoes for new trends in health, fitness, nutrition at ISPO 2016 in Munich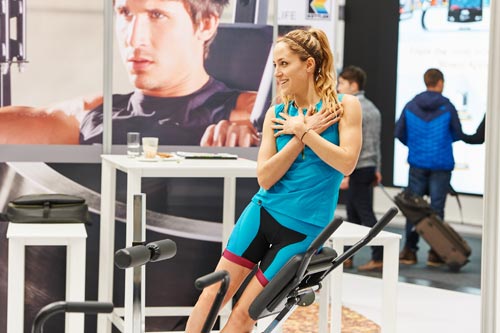 In 2014, the special section 'Health & Fitness' premiered at ISPO. This year from 24 to 27 January, around 140 of in sum expected 2.500 exhibitors will launch innovations from the respective fields with focus on people's demands such as measuring the performance of sports activities and the effects on physical fitness (keywords mobile health and wearables), and the fact that a large part of the population lives in our days twice as long as 100 years ago. The health and fitness exhibitors can be found at Halle B4.
One of the highlights for fashion interested visitors of ISPO 2016 is the special exhibition at Halle B1 ISPO VISION where labels like Bogner, Peak Performance or Sportalm will show 'Athleisure' collections. The new fashion trend 'Athleisure' fuses 'ath'letic clothing such as used for training and 'leisure' wear. Another must-see is the presentation of products by ISPO BRANDNEW finalists and winners such as shoe soles which send running technique tips or a bicycle lighting-system which adjusts the light power after the circumstances of the environment (exhibition at Halle B5 at ISPO BRANDNEW Village).
fig.: 'Health & Fitness' related products (inclusively wearables by Garmin, Samsung...) will be located at Halle B4 at ISPO 2016 (24 - 27 January 2016). Photo: (C) www.frommel.de.


more culture>