28 May 2016

Louis Hofmann received the 'Jaeger-LeCoultre Homage to German Movies' prize at the German Film Award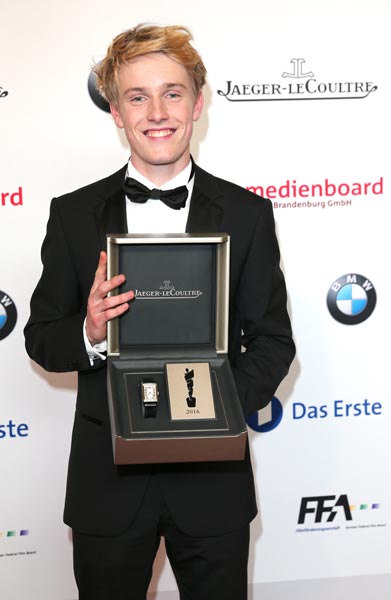 Yesterday at the LOLA - the German Film Award (Deutscher Filmpreis) in Berlin, actor Louis Hofmann received the special 'Jaeger-LeCoultre Homage to German Movies' prize for his role of the young soldier Sebastian Schumann at the Danish-German production 'Land of Mine' (original title 'Unter dem Sand' (2015). The prize is the personalized Jaeger-LeCoultre watch 'Reverso' with LOLA engraving. The Reverso premiered in 1931 and was designed with a case that can be reversed to protect the watch during activities like sports.
18-years old Louis Hofmann (born 1997) is one of the German film industry's emerging actors who attract currently the movie scene. Recently, the jury of the International Film Festival Beijing, China selected him as winner in the category 'Best Leading Actor' for the movie 'Land of Mine' (article on Variety.com); at this year's German Actor Award (Deutscher Schauspielerpreis), he won the prize in the category new talents (Nachwuchspreis) for 'Freistatt' (2014), and at one of Louis Hofmann's latest posts on Facebook, the actor announces that he is part of the cast of the Amazon series 'You Are Wanted' about computer hackers, data theft and identity (release in Germany, Austria in 2017). It's the first ever German Amazon series and the cast can be summarized with two words: popular and exquisite.
fig.: Actor Louis Hofmann poses with his 'Hommage to German Movies' award, the 'Reverso' by Jaeger-LeCoultre during the winners board of the Lola - German Film Award (Deutscher Filmpreis) on 27 May 2016 in Berlin, Germany. Photo by Gisela Schober/Getty Images. (C) 2016 Gisela Schober.
The embedded Facebook post shows the photo album by Deutscher Filmpreis with impressions of the 'Jaeger-LeCoultre Hommage an den Deutschen Film' prize ceremony: