27 July 2016

MKG Hamburg shows costume designs by Oskar Kokoschka for Mozart's opera 'The Magic Flute'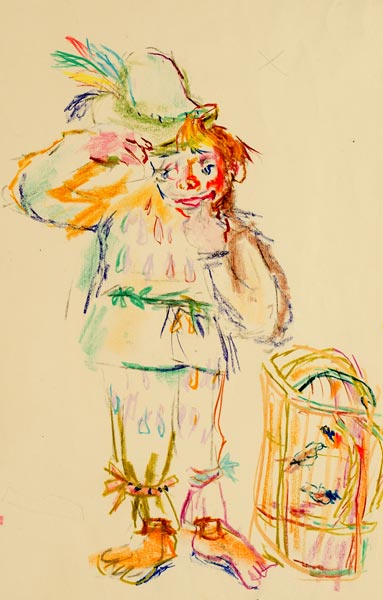 The relation between the German MKG - Museum für Kunst und Gewerbe (Arts & Crafts) in Hamburg and the Austrian painter Oskar Kokoschka (1886- 1980) was close; Kokoschka visited the museum several times and on occasion of a show in 1970, the painter created a tapestry for MKG Hamburg with a scene from Mozart's opera 'The Magic Flute'. The tapestry is inspired by the artist's stage and costume designs for 'The Magic Flute' conducted by Georg Solti at the Geneva opera in 1965. The textile, woven work belongs today to the museum's interior.
Now, Oskar Kokoschka's legendary stage and costume sketches for the Mozart's opera staging in 1965 in Geneva have been brought from the museum's archive to the exhibition space. 'Kokoschka and The Magic Flute' can be visited until 30 October 2016.
fig.: Oskar Kokoschka, Papageno, costume designs for a performance at the Genevan opera, 1965, coloured chalk, Museum für Kunst und Gewerbe Hamburg, © Fondation Oskar Kokoschka / VG Bild-Kunst, Bonn 2016.
The designs of Kokoschka were also published in a booklet for the special edition of 'The Magic Flute' record (conducted by Georg Solti, 1970 released by Teldec which belongs today to Warner Music Group); Kokoschka's designs illustrated the complete libretto.


more culture>