31 January 2016

Highlights 2016 at MAK - Austrian Museum of Applied Arts: exhibitions about fashion, jewelry, photo
On 26 January, Christoph Thun-Hohenstein, Director of the MAK - Austrian Museum of Applied Arts / Contemporary Art, presented the program 2016 at the press conference at the headquarters in Vienna. The museum is active at several locations across the city and outside of Austria in Los Angeles (California) and in Brtnice (Czech Republic). The selected exhibitions about fashion, jewelry and photo will be on show at the main site at the museum at Stubenring in Vienna. MAK is known for the exploration of art in everyday life; keyword 'design'.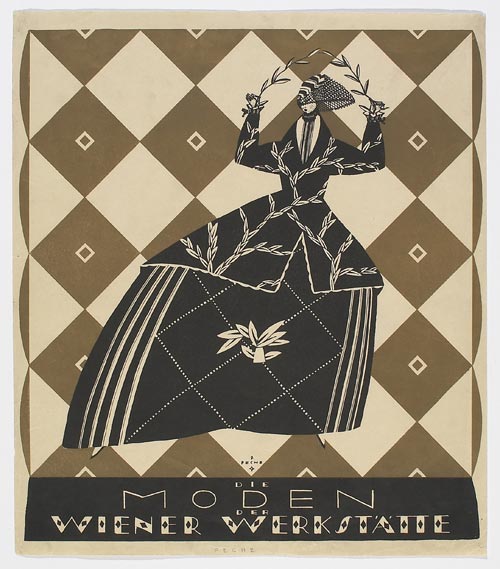 This year, MAK contributes three 'fashion' related exhibitions:
'Fashion Utopias - Haute Couture in the Graphic Arts' (13 April - 4 September) travels back in time until early fashion illustrations of the 16th century and explores the history of the creation of fashion typical stereotypes; keywords bare skin and skinny models.
fig.: Die Moden der Wiener Werkstätte [Wiener Werkstätte fashions], Dagobert Peche, Vienna, ca. 1918. Lithograph. © MAK/Georg Mayer.
The exhibition 'handiCRAFT: Traditional Skills in the Digital Age' (14 December 2016 - 9 April 2017) focuses on the influences of digital technologies on traditional handicrafts. The insights into contemporary artisanal techniques will be supported by 20 craftspeople (not only from fashion but also ceramics, glass, etc) who will present their skills in live workshops.
The third fashion related exhibition is about the founder of the Austrian eyewear brand 'Robert La Roche' (4 May – 25 September 2016) and his creative period between the 1970ies and the end of the 90ies. Around 500 eyeglasses frames together with documents of the brand's world (campaign materials like posters, ads) will be on view.
For the ones who are interested in jewelry, the exhibition of selected award-winning jewelry and decorative objects 'Eligius Award 2016: Jewelry from Austria' (7 – 25 September 2016) will provide an overview about the creative scene in this sector.
The fifth highlight from the extensive 2016 program is the 'photo::vienna | show 2016' which is open from 12 to 16 October 2016. Photographers inclusively photojournalists from various fields (art, architecture, portrait, commercial as well as editorial photography) will be represented with their works.


more culture>