18 June 2016

Impulstanz workshops by Peaches & Keith Hennessy about making a museum performance and party
From 14 July until 14 August, the annual dance festival 'Impulstanz' will happen at various locations in the city. One of the main focuses in 2016 are the 'Visual Arts & Dance' series by artists, dancers, art professionals like 'Pawel Althamer x Meg Stuart', 'Thomas Oberender x Hans Ulrich Obrist' or musician Peaches in collaboration with performance artist Keith Hennessy in art spaces.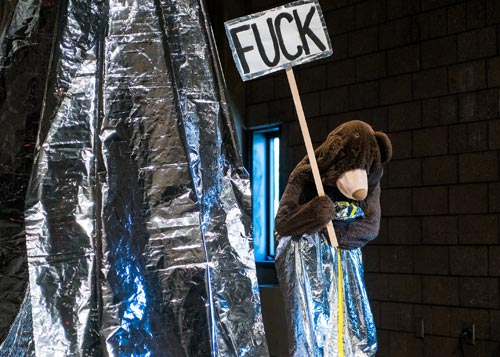 Last mentioned duo will premiere their performance 'Critical Joy' on 28 July at MUMOK (Museum Moderner Kunst Stiftung Ludwig Wien) where Peaches and Keith Hennessy will mix elements of pop culture (party songs, cabaret...) for the exploration of social pratices in the setting of a museum. At Mumok, the performance is part of the exhibition 'Painting 2.0: Expression in the Information Age'.
Already two days before on 26 July, Peaches and Keith Hennessy's 'Critical Joy' workshops about making a museum performance and party starts at MUMOK. The results of the workshops (performing, DJ, collaboration...) will become part of the above mentioned performance on 28 July. The workshops are scheduled on 26, 27 and 28 July.
fig.: 'Critical Joy' by Peaches (DE/CA) & Keith Hennessy (US/CA). Photo: © Ian Douglas.