14 April 2016

Insight into the presentation of the new Freywille 'Pharao' enamel jewelry collection in Vienna
The Austrian enamel jewelry brand Freywille runs boutiques all over the world and is known for incorporating culture and art history into the designs of bracelets, earrings, pendants... and accessories like scarves. Today, Freywille invited to the presentation of the new collection 'Pharao' at the flagship store at Stephansplatz 5 in the Inner City of Vienna. The label's strong focus on culture history is visualized in the logo accompanying visual of a sphinx which welcomes guests already at the door of the store. For Freywille, the sphinx stands for strength, passion and creativity.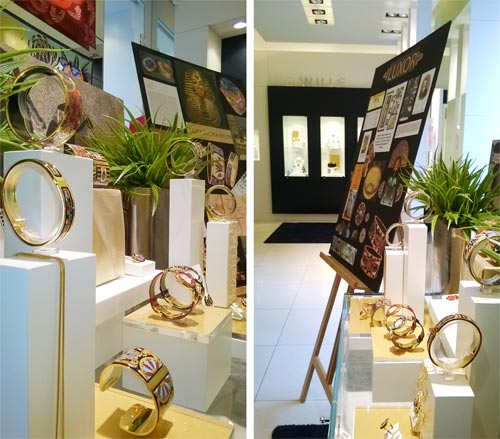 Creativity spreading were today even the two designers during their introduction into the making-of the 'Pharao' collection. The designers approached the theme from different angles. The mood boards with some examples of their research results about the culture of Old Egypt around 1000 - 2000 BC was pinned on two painter's easels (on view at the images right). The research started at an exhibition about Old Egypt where artefacts like jewelry were displayed. The collection consists of two lines; 'the 'Luxor' line is inspired especially by an enamel diadem of princess Chnumet and ornaments found on other objects which once belonged her. The designer applied additionally other attributes of the world of an Old Egyptian princess onto the jewelry such as decorations derived from ancient air-cooling palm tree fans (the image below, left shows a ring with reference to palm trees). The second line's name is 'Tutanchamun'. One of the highlights of the line is the piece with scarab and sun; it's a modern interpretation of the bracelet Tutanchamun once wore.
Fitting to the journey to Old Egypt and the legendary spa culture, Freywille invited the guests to the scent bar for testing the label's perfume collection consisting of four fragrances which can be worn alone or in layerings. One layering combination (magique x innocent) is mood boosting fresh and makes think of light fabrics, sun and sports; the other combination (rose x mystique) evokes with its floriental notes the impression to match perfectly to heavier silks and cashmere during elegant evening events. The four perfumes could also be associated with the year's seasons: spring, summer, autumn, winter. Well, the range opens a wide field of imaginations.
fig. below: 'Luxor' line: ring 'Miss'; 'Tutanchamun' line: bracelet manchette 'Aphrodite'; collection 'Pharao' by Freywille, 2016.