12 August 2016

Mountain tours and workshops with professional photographers in Austria
One of the favorite autumn leisure activities of Austrians is walking, hiking at and on mountains - which is an easily accessible leisure in this country as around 60% of the territory is mountainous. This is also the reason why high-tech outdoor clothing such as hoodies made of water repellent fabrics and footwear with non-slipping soles for the better grip count to the best-sellers in late summer, early fall.
The upcoming autumn season will color the landscape again into a red, gold, brown, green outfit and it's as if the color range motivates autodidact photographers every year again to share mountain images with their friends and the unknown public online. A few are great, some of the pictures are nice, and most of the shared posts don't impress technically. Self-learning is good; but it's far more time saving to get advice from a professional.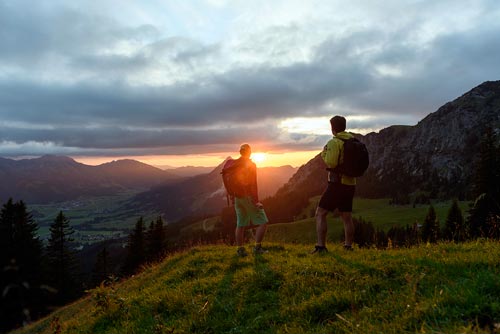 Fashionoffice received dates for mountain tours and workshops with professional photographers in September, October. Find below three workshop tips as examples for what's going on at mountainous Austria in autumn:
Wolfgang Ehn is one of the photographers who tours and provides knowledge. He is outdoor, sport, lifestyle photographer and will walk with the workshop members at the valley of Tannheim, the Tannheimer Tal, in Tyrol. Alongside to the shootings during the mountain tours, Wolfgang Ehn will introduce into equipment, photographers' techniques, planning a photo tour, etc.
fig.: Image by photographer Wolfgang Ehn. Photo: (C) go-images.com / Wolfgang Ehn.
Reinhard Hölzl organizes two mountain tours in Tyrol. At his 4-days creative workshops in September and October, participants will train the eyes for seeing the beauty of nature and for capturing it. The September workshop is entitled 'Fascination Karwendel' and tours through the nature park Karwendel; the October workshop is named 'Under the spell of autumn colors' (orig. 'Im Bann der Herbstfarben') and explores the landscape of the Tyrolean Obernbergtal.
The third photographer who will introduce into the production of images is Armin Klein. He will focus on the techniques of photography and digital image editing from an artistic perspective. The workshop will be held from 12 to 16 October at Kunstforum Montafon in Schruns (Vorarlberg). During excursions in the Montafon region, participants will learn how to bring deepness and effects (keywords: wide-angel, exposure time) into images.


more culture>